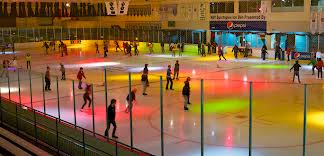 Man, is it hot out! Tough to plan a leisurely stroll or picnic when you're sweating like a wrestler. Chill out at RDV Ice Den for a fun night of ice skating and reconnection. Groove to the DJ on Friday and Saturday nights from 7-9:45pm or choose from a number of other public skate times.
Admission for regular skate sessions is $6.81 plus tax. Admission for Friday (Teen Night) and Saturday night skate sessions is $9.62 plus tax. Skate Rental Fees are $3.29 plus tax.
Don't forget to pack socks, a sweater and a few extra bucks to splurge on hot chocolate.
Check out RDV's public skate schedule and admission fees at: www.mvpsportsclubs.com/rdvsportsplex/iceden-public.asp
RDV Sportsplex – Ice Den
8701 Maitland Summit Blvd.
Orlando, FL 32810
407-916-2550