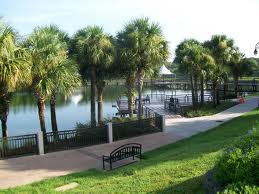 Though I'd be the first in line at a luxurious spa or an elegant restaurant, I really do love the simplicity of a cheap date. The other day, hubby and I headed to Cranes Roost Park at Uptown Altamonte and enjoyed an ice cream cone and a stroll around the mile-long walkway encircling the lake. I learned an important lesson that day… Date night can be just as special with a $3 tab as a $300 tab.
It was Saturday night, so the park was filled with families and couples enjoying the same quality connection time we were. The stroll was pleasant and easy with lots of benches and covered seating throughout the path to give us ample opportunity to chill-ax.
There's a lot more to Cranes Roost than their infamous Red, Hot and Boom July 4th event. There's a free jazz concert every Friday night at the Eddie Rose Amphitheater. Check out the Couple's Calendar for more info. They also put on car shows and comedy specials every month as well.
If you're looking to eat before or after your stroll, you'll find a solid selection of fast food (Moe's, Five Guys Burgers and Fries), casual (Chili's) and fine dining restaurants (Seasons 52) all within walking distance of the park. An AMC Theater is right there too at Altamonte Mall. You'll also find purveyors of coffee, ice cream and smoothies – every treat to suit your fancy.
To find out more about the goings on at Cranes Roost visit www.uptownaltamonte.com.