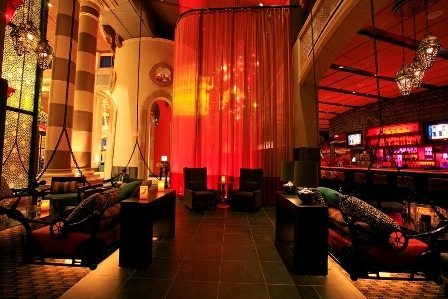 What do you get when you mix laughter, cheery competition, and martinis? You get a date night you and your honey will be talking about for months. Last month, my hubby and I had one of our best date nights EVER at PlayDate Orlando inside Rix Lounge (Disney's Coronado Springs Resort). This swanky locale was transformed into an epicenter of fun with classic games gracing the tables throughout the lounge. We played Trouble (I kicked his butt three times in a row), Connect Four (he kicked my butt), Don't Break the Ice, Jenga, and even met another cool couple who taught us how to play Yahtzee (hi Mike and Krissy).
We laughed all night long… and who doesn't need a good laugh these days?!  There were people playing Twister and musical chairs on the dance floor, and the DJ spun the perfect party tunes mix for creating a playful mood.
PlayDate Orlando has scheduled their next two events:
Saturday, July 18th
8pm – 2am
Rix Lounge
$10 admission after 9pm
Friday, August 28th
8pm – 2am
Rix Lounge
$10 admission after 9pm
I'll be there in July. Hope to see you too.
For more info visit www.playdateorlando.com