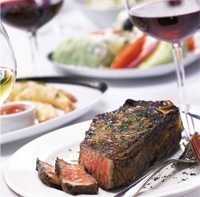 A BYO Wine Dinner!? What a great concept. This Friday, September 25th, Fleming's on Sand Lake (yep, the swanky new location) will be hosting a unique foodie event where their chef provides the yummy grub and you bring the wine.
Check out this delicious menu….
HORS D'OEUVRE
Lump Crab Crostini with Tropical Pineapple and Prickly Pear Vinaigrette
SALAD
Baby Arugula and Spinach Salad with Tea-Smoked Duck and Goat Cheese Foam
ENTRÉE
Broiled Filet Mignon Poached in Butter on Roasted Parsnips Topped with Mushroom Caponata and a Pomegranate Glaze
DESSERT
Sour Cream Pound Cake with Poached Pears and Blue Cheese Crumbles Drizzled with Rosemary-Infused Caramel Sauce
Every bottle is welcome for this one-night event! You'll enjoy it alongside a wine-friendly 3-course menu created just for the occasion.
Friday, September 25th @ 6:30pm
Fleming's Prime Steakhouse
8030 Via Dellagio Way, Orlando, FL 32819
407-352-5706
$45 per guest
www.flemingssteakhouse.com/Enewsletter-September/byo-wine-dinner.aspx