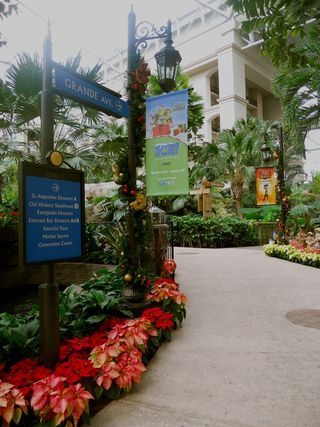 I'm not going to lie… there are a lot of families at Gaylord Palms Resort these days. With the newly rebranded ICE! and SNOW experiences splashed with Shrek and Kung Fu Panda plus visits with Santa, screenings of the Puss in Boots 3D movie and a colorful little nook where you can decorate gingerbread houses…we're talking a cornucopia of kid-focused festivities.
But for all the merriment and eventual meltdowns this spectacular holiday extravaganza will produce, there are, in fact, a few mature elements if you know where to look. Here are seven tips for experiencing a Gaylord Palms date night this holiday season:
1. Definitely check out ICE! but you can skip SNOW… with its kids playground and giant slide, it's really intended for little ones.
2. Go on a night when ICE! is open until 10 p.m. (Nov 25, 26 + Dec 3, 10, 17, 18, 19, 20, 21, 22).
3. Buy your tickets online ahead of time so you don't have to stand in line for tickets or chance having ICE! be sold out once you get there.
4. Valet park…. it's free when you have your ticket validated at one of the onsite restaurants.
5. Which leads me to my next tip… make a reservation to have dinner at the resort before ICE!. My personal favorite is Old Hickory Steakhouse thanks to its out-of-the-way locale in Gaylord's 'Everglades' wing.
6. Sip cocktails at SORA, the South Beach-inspired lounge just off the main lobby. It's also a great place to have sushi if you'd rather pass on a formal sit down dinner.
7. Become an official member of the Polar Bear Club by running through ICE! in your swimsuit at 7:30 a.m. (not a typo) on Saturday, December 3rd.
At the very least, skip all the 'attractions' like ICE! and simply spend a few hours wandering through Gaylord's 4.5-acre atrium. This indoor oasis has been completely decked out for the holidays and will transform even the Grinchiest of Grinches.
________
Pssst…. we're tweeting an additional 30+ Orlando date night ideas each week on Twitter. Make sure you're following @OrlandoDateNite