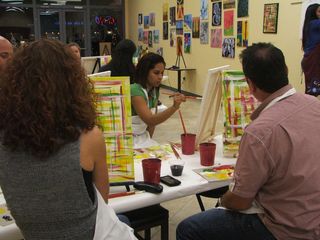 I have zero artistic talent. Seriously, I can't even doodle. But there's a part of me that hopes, just maybe, given the right circumstances and the perfect amount of liquor, I might be able to create something people might think is slightly cool.
Fine. I'll settle for not awful.
I've tried painting courses but the trouble is I always end up spending all kinds of money trying to "learn" how to paint only to heartbreakingly realize, once again, that I'm just no good. Sigh.
SOLUTION: Creative Canvas and Wine in Altamonte Springs! These geniuses have designed a painting for dummies sort of experience where even I can walk away with something frame worthy.
You start by going to their online calendar and registering for a piece du jour. This will be the painting you and the other participants will work on over the 2.5-hour session. Upon arrival, you'll receive a canvas followed by step-by-step instruction by the friendly facilitators who guide the group from colorless canvas to masterpiece.
But wait… you're thinking, "didn't you say this was called Creative Canvas and WINE?" Yupper. Wine is served at $3 a glass or $12 a bottle!! Wowza. And I'm not talking Barefoot either… this is classy vino. (No offence Barefoot… I still love ya!).
A couple of things to note… Snag your sweetie 'cause Friday and Saturday nights are unofficially date night. Oh, and every other week they plan a Sangria Saturday, which means they serve Sangria (duh!) and the first glass is on the house (yeah!).
Cost is around $35 per person and classes are scheduled multiple times during each month.
Let the creative juices… and the wine… flow at Creative Canvas and Wine!