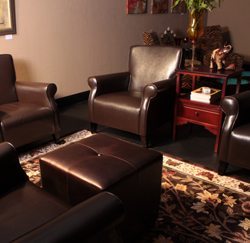 When life gets hectic, there is only one cure in my book… the spa! A side-by-side couple's massage is nice (you won't ever see me turn one down) but I think date nights need a little more face-time in order to really fill up the emotional bank account.
So, when I stumbled upon The Barefoot Spa last year, I fell in love. Located in the Ivanhoe Village area of downtown Orlando, this artful spot touts itself as being the first spa in Orlando to put feet first, literally.
That's because, along with a series of typical treatments like massages and facials, the spa's main focus is the foot massages happily given in the Living Room, a comfy, open seating area where guests can chill in cozy chairs as they enjoy a little indulgence.
So, maybe you're wondering why this would make a good date night? First, they're open from 6pm – 10pm Tuesdays, Wednesdays, Fridays and Saturdays. Second, they allow you to bring your own wine and snacks (and no corkage fees!). Finally, after your 30, 45, or 60-minute foot massage, you can hang out and chat as long as you like.
All foot treatments begin with a "Foot Tea," a piping hot mix of organic dried herbs like chamomile, peppermint and lavender. Afterward, guests receive a basic massage (which is sooooo good) or can choose from a long list of "Fancier Stuff" (like a mineral-rich mud mask) or "Even Fancier Stuff" (like Happily Dying of Chocolate, a treatment featuring a shea butter blended with cocoa).
Whichever treatment you choose, your tender tootsies (and your relationship) will appreciate the TLC.