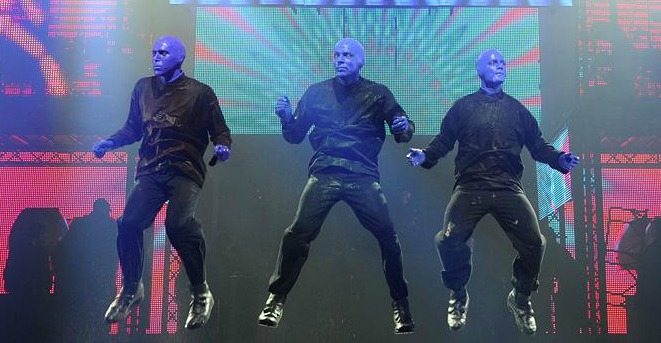 While you may have to venture into Orlando's most highly concentrated tourist zones to find them, a handful of Orlando's live shows are honestly worth braving the crowds of out-of-towners on date night. Here are the three of the best:
Blue Man Group
This clever, funny and slightly zany live show lives in its permanent theater on CityWalk and was recently revamped (no more toilet paper finale ☹). While a few of the segments have been altered slightly, the hour and 45-minute show is still packed with enough quirky theatrics and goofy tricks to make the time fly by. New this year, guests can now upgrade their tickets (which are $60/person) to include entry in the Bluephoria VIP Lounge, a free program, and two complimentary drinks before and after the show. This VIP $20 upgrade also features a photo of a meet-and-greet with a member of the Blue Man Group. Check here for an updated list of packages and specials.
Cirque du Soleil's La Nouba
Set inside the massive, white majestic 1671 seat theater perched over Downtown Disney's West Side, La Nouba presents a mix of music, dance, and acrobatics that is something totally unique to Cirque du Soleil…. and something everyone should experience at least once. Expect a ninety-minute show featuring dozens of trapeze artists, dancers, clowns, and acrobats from all over the world. Nothing is predictable or ordinary. No doubt, you will be awed by its beauty and quirkiness.
Tickets aren't cheap (from $77 – $136 each), but a great view can be had even from the cheap seats since the theater was perfectly designed to give every attendee an excellent view of the performances on the stage and high above it. Check here to see if there are any specials running for Florida residents.
Medieval Times
Believe it or not, a night at Medieval Times is actually a good time if you let go and let yourself be transported into the 11th century world they have attempted to recreate. Sure, the medieval tournament and feast hosted in the replica castle in Kissimmee is a little corny, but the tourists REALLY get into it and the energy can be contagious.
Your job as spectator is to eat, drink, be merry, and cheer for your knight. Your 'wench' serves true medieval fare as the entertainment begins, mostly equestrian drills performed by beautiful Andalusian Stallions while the crowd boos, yells, and bangs their beer mugs. The knights face off against each other in a series of trials that include jousting and sword fighting. The show is professional and the knights demonstrate real talent for what must be a rare set of skills. Okay, Medieval Times is not for everyone, but it's definitely for the young at heart. ADULT: $62.95 (+tax & processing fee). Gratuities are not included. Check here for special offers and discounts.