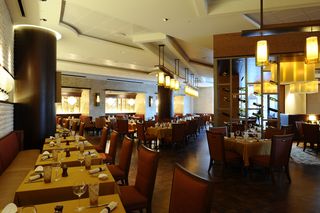 Anyone interested in a three-course dinner at a five-star restaurant for just $30!?
Last weekend, Marc and I checked out 3.3.30, a dining promotion at the Peabody Orlando hotel that features a delectable three-course menu at one of their three restaurants each month.
In February, the featured restaurant is Napa, a wine country inspired restaurant with an organic and farm-to-fork focus.
Diners can choose from the following:
FIRST COURSE: Pan Roasted PEI Mussels
or
Roasted Baby Beets
SECOND COURSE: Grilled Atlantic Salmon and Florida Rock Shrimp
or
Wagyu Beef and Lentil Casserole
or
Forest Mushroom and Bell Pepper Lasagna
THIRD COURSE: Chocolate Toffee Tart
or
Florida Orange Bar
Here is a link to the full menu with descriptions of each dish.
This was my first visit to Napa. Besides ample portions and mouth-watering flavors, I also loved the handful of intimate booths this amber-hued restaurant houses. Our little enclave made us feel like we were on our own epicurean island. I also appreciated the 3-glass wine flights offered by the bar, which meant I didn't have to commit to one choice of vino. ☺
In March, Capriccio Grill will unveil its three-course, $30 menu.
Don't forget, tax and gratuity is additional.
By the way, you should follow GDO on ODNG.