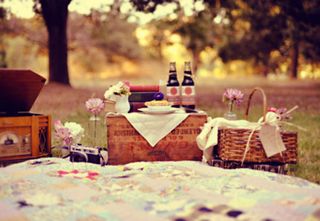 Here's how to hit a home run this Valentine's Day: grab a gourmet picnic basket packed with goodies and take your honey to one of Orlando's pretty parks for a romantic lunch.
Thanks to East End Market, Orlando's newest food and culture hub, all the work of compiling your picnic provisions is done. Their new picnic kits are packed with goodies from East End Market's merchants. All proceeds are going towards a marketing fund that will help to promote these unique and talented producers.
The kits, which are priced at $60 (+tax), include:
Cuts & Craft Artisan Meats – A quarter pound of Country Pork Terrine with dried cherries and pistachios
Wild Ocean Seafood – A half-pound of smoked mullet fish dip
Olde Hearth Bread Company – A bag of Lavash crackers and sweet cookies
Freshly Picked – A large bouquet of locally grown, organic flowers
Local Roots Farm Store – Fresh, Florida-grown fruits and veggies
Skyebird – Decadent raw desserts
Fatto in Casa – A quarter pound of Baci di Alassio
AtoZ Coffee Roasting – A half-pound of freshly roasted chocolate hazelnut coffee beans
Cuisiniers Catering and Txokos Kitchen – Two dessert recipe cards from award-winning chefs, Jamie McFadden and Michele Salgado
Pick-up Time and Location
Monday, February 11, 2013 from 6 – 8pm
Audubon Park Community Market
1842 East Winter Park Road, Orlando
You may order with your credit card, or send a check payable in the amount of $63.90 to East End Market, LLC, 427 S. New York Ave. Ste. 204 Winter Park, FL 32789. Kits will be reserved upon receipt of your payment.
Only 30 kits are available, so be sure to purchase yours before noon on Friday, February 8th.
By the way, you should follow GDO on ODNG.