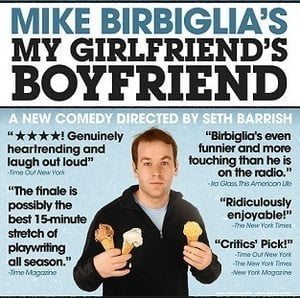 There's something about the mix of love's hilarity and utter heartbreak that seems to make it the perfect topic for comedy. Whether you're tallying up the thousands of romantic comedies ever made or the number of times stand-up comics joke about their hopeless relationship skills, the truth is love is pretty darn funny… especially when someone else is struggling with it.
This is, perhaps, why Mike Birbiglia's My Girlfriend's Boyfriend has been such a hit since it debuted last year.
In this painfully honest live show, Mike shares a lifetime of romantic blunders that most adults would spend a lifetime trying to forget. It's been called "ridiculously enjoyable" by The New York Times and was recognized as a Critic's Pick by New York Magazine.
Mike Birbiglia's My Girlfriend's Boyfriend will grace the stage at Plaza Live for just one engagement on Saturday January 26th at 8pm. Tickets are $24.50 up.
Visit the Plaza Live website for more information and tickets.
By the way, you should follow GDO on ODNG.