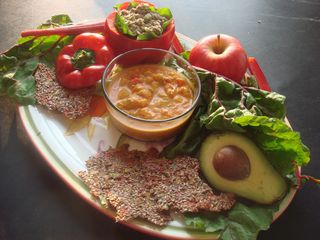 Since this is the time of year for New Year's resolutions, I thought I would share an idea for those couples aiming to take their healthy eating habits to new heights in 2013.
When it comes to food, I've seen many friends make the transition from vegetarian to vegan but only a select few have reached the pinnacle of wholesome noshing… going fully raw!
For those of you who don't know, the raw diet is simple: it consists of eating uncooked, unprocessed foods including raw fruits, vegetables, nuts, seeds, even raw dairy and meat.
While research has espoused the virtues of raw eating, it can be a tough protocol to pursue. Thanks goodness Orlando has Chef Olive.
Through cooking classes and her raw food Meetup, this raw food guru has been making life easier for raw foodies for over a decade.
On Saturday, January 5th, Chef Olive will present her "Resolve to Raw" class inside the Lifestyle Center at Whole Foods Market Phillips Crossing (Sand Lake).
During this three-hour class, Chef Olive will share her wisdom and recipes, as well as details of her Raw Food Challenge.
Cost is just $25 per person and includes the three-hour course on January 5th as well as a mid-week support session on Thursday, January 10th from 6-6:30pm.
For more information on how to register for this event please, contact Chef Olive at (407)923-9653 or register online.
Resolve to Raw
Saturday, January 5
2pm – 5pm
$25 per person
Whole Foods Market Phillips Crossing
8003 Turkey Lake Road, Orlando
(407) 355-7100
By the way, you should follow GDO on ODNG.