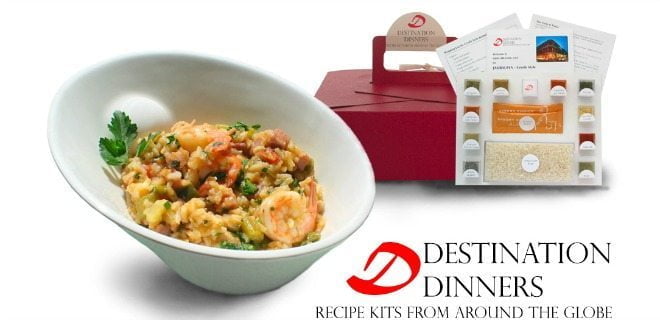 If you're anything like me, the hustle and bustle of the holidays has done you in and the idea of going out for date night has lost a little of its charm. Date night in my pajamas is what I really need this weekend.
For those nights when you've lost the motivation to hit the town or simply can't find a sitter to guard the kiddos, plan on a gourmet night in making an exotic meal with the help of Destination Dinners, recipe kits that arrive on your doorstep packed with almost everything you need to recreate some of the world's most memorable meals.
Without ever leaving your kitchen, your taste buds can travel to Jamaica, Thailand, Japan, Korea, even Turkey.
Each kit comes with an idiot-proof collection of pre-measured spices, sauces, instructions, even table setting suggestions and trivia questions. There's also a shopping list of the few fresh items you'll need.
Here are a few of the dinners on deck:
Thailand – Pad Thai
Jamaica – Jerk Chicken
America – Jambalaya
Japan – Saikyo Miso Fish
In total, there are 17 different kits to choose from, on average about $30 each.
See… with a little planning and a dash of creativity, even a stay-at-home date night can be memorable.
By the way, you should follow GDO on ODNG.