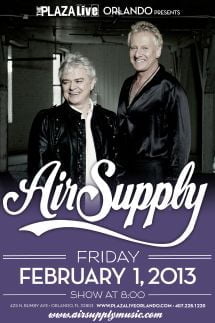 Contest closed.
CONGRATULATIONS to winner Julie Zambos
Do these lyrics ring a bell? 
I'm all out of love, I'm so lost without you
I know you were right, believing for so long
I'm all out of love, what am I without you
I can't be too late to say that I was so wrong
Yep, that's one of the sentimental songs from Air Supply, the soft rock band that dominated easy listening stations (and my dad's tape deck) in the 1980s. Since 1976, the British/Australian duo has produced 17 albums plus a handful of greatest hits compilations.
Air Supply will be hitting the stage at Plaza Live on Friday, February 1st (8pm). Tickets start at $45 but…
I'm giving away 2 tickets here at Great Dates Orlando.com!
All you need to do is leave a comment on this blog post with the name of your favorite Air Supply song.
The winner will be chosen at 5pm on Friday, January 25th using the random number generator at Random.org, and announced via Facebook and Twitter.
GOOD LUCK!
Plaza 'LIVE' and Magic 107.7 Present Air Supply
Friday, February 1, 2013
Doors: 7:00 pm / Show: 8:00 pm
Tickets: $45.00 up
More information and online tickets
By the way, you should follow GDO on ODNG.