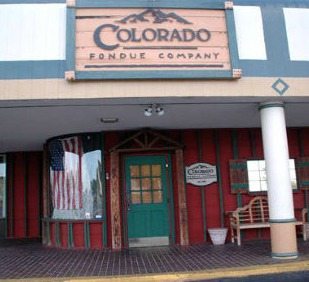 By Autumn Hassell
One of our absolute favorite places to eat out at is Colorado Fondue Company (CFC) in Casselberry. Maybe it's because Ryan and I originally met in Colorado or maybe it's because from the moment we enter the restaurant we feel like we have been transported to the state of Colorado itself. With its ski lodge décor, CFC makes you feel right at home. The staff is friendly, and the owner, Blake, often offers up great conversation as well.
But there is so much more to love!
The menu: When most people think of fondue, Melting Pot is ususally the first, and perhaps the only, restaurant that comes to mind. But even if you are a loyal fan of the Melting Pot, CFC is worth a visit. These two restaurants are similar but there are some important differences, including the fact that CFC is family owned and operated, which translates into lots of room for foodie fun and creativity.
For starters, every few months the restaurant changes its "theme." In recent years, I've seen an 80's theme where they had classic films such as "Ferris Bueller's Day Off" and "Sixteen Candles" playing in the restaurant plus special cocktails such as a "Nerds" martini. Servers were asking 80's movie trivia questions to give diners the chance to win prizes. If you want to see this restaurant at its best, theme wise, then come by during Halloween. The decorations are AMAZING.
Food at CFC is very similar to Melting Pot except that when you have your main entrée you don't cook it in a pot of oil. Instead, you get a "hot rock" to cook your meats and veggies on.
The food is delish from appitizer to dessert. My favorites include the Alpine Swiss Fondue, Mountain Mix Salad, Sirloin and Shrimp Fondue, and the Chocolate Turtle Fondue for dessert.
Price of food is based on your hunger level and your experience with fondue:
Beginner: salad, cheese fondue, and dessert fondue ($14 per person)
Intermediate: salad, cheese or chocolate fondue, and main course meats and veggies ($23 per person)
Expert: salad, cheese fondue, main course meats and veggies, and chocolate fondue ($30 per person)
Extreme: includes additional seafood and a bottle of wine or a $20 credit towards beverages ($43 per person)
Special Occasion? Make sure you let them know. And don't forget to take a picture with Big Al before you leave. He's the moose that guards the restaurant. Yes, a moose.
Tucked away in a corner of Casselberry, Colorado Fondue is a true gem in Central Florida. "Like" them on Facebook and be sure to join their mailing list so you'll receive discounts and coupons and stay up-to-date with all the specials and themes they have going on.
CHECK OUT THIS DEAL: $35 — Rachael Ray Pick: Fondue Dinner for 2, Reg. $69
____________________________________________________________________________________
This date night experience was contributed by Winter Park couple Autumn and Ryan.