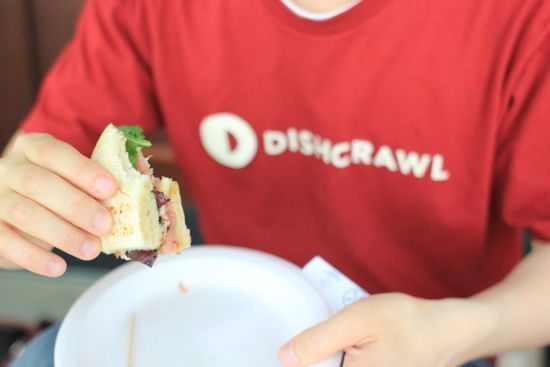 As the March Couple at Large, Kim Crespo and her date checked out the inaugural Dishcrawl Orlando, a four-stop foodie adventure through downtown Orlando. Here is her take on this unique epicurean experience: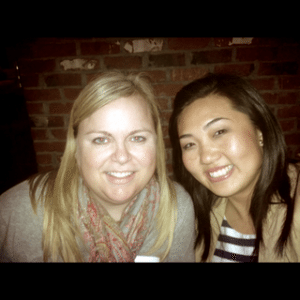 Stop One: Beth's Burger Bar
Seems there are a lot of foodies in the crowd. We take a seat in the back of Beth's Burger Bar and soon a burger and fries are delivered. Half of the burger appears to be a traditional cheeseburger, but one bite lets you know there is something "else" on the burger. A closer look reveals peanut butter! Other half of the burger has pineapple and jalapeno salsa…fries are delicious…burgers are good.
Stop Two: Bento Café
The group proceeds down Orange Avenue with us all wondering where we are headed. Lindsay, Dishcrawl's Ambassador, makes a slight left turn and we know we are headed to Bento Café. We nosh on Spicy Cream chicken, Crab Rangoon and Mexican sushi rolls. We are all complaining we are stuffed but there are two more stops…once again we all file out of Bento and wonder where we are headed.

Stop Three: Harry Buffalo
As we continue down Orange Avenue and head right on Church Street, we all start discussing options…could it be Ceviche, Hamburger Mary's, Rusty Spoon? Before we know it we have passed all those eateries and we are headed up the stairs at Harry Buffalo, which is full of screaming Magic fans. Here we have typical bar food with a twist. Buffalo Chicken Mac n Cheese , "pizza" eggroll (slightly on the greasy side), and humus with pita and cucumber (light and refreshing). By this time, half of us are feeling like we should be rolled out of the restaurant.
Stop Four: Urban Flats
When we arrive at Urban Flats many are hoping for dessert but instead we are served six slices of flatbread (pesto and mozzarella, pepperoni and white pizza with red pepper flakes). Yum!
Our take on the whole experience
This was Dishcrawl's very first event, so it makes sense that there will be ways it can (and will) improve. I think adding a few more 'hole in the wall' gems will make it that much better. Also, I think coursing out the night (appetizer, two entrees and a dessert) would take it up a notch too.
Attendees should remember to bring money for alcohol if they choose to drink; it's not included in the Dishcrawl package. Also, try to sit with different people at each stop; this turned out to be a great way to meet new people and have great conversation.
Our recommendation
We would recommend this as a unique date night. It's a night to step outside of your box, try a few new foods, and hang out with some very interesting people.
The next Dishcrawl Orlando is slated for Wednesday April 3 at 7pm. Cost is $45 per person.