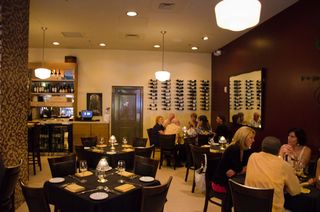 BUMMER… THIS CLOSED!
Located right off of Eola Drive, Nick's Italian Kitchen is in a wonderful downtown location, without being in the main traffic of Orange Avenue. It is a cute and cozy location that features great people watching if you sit in the outside patio area. The location seats about 50 so if you are planning on going on a weekend night, making reservations would be a good idea.
Food Style: Italian…all Italian. One of my fave entrees is the Spaghetti & Meatballs ($15), which is anything but standard. Served with a spicy filetto di pomodoro sauce that is sooo yummy, this comfort food will have you full and happy. Feeling like a little seafood? Try the Pasta Diablo ($18), a fettuccini dish that's tossed with more of that amazing pomodoro sauce, shrimp, mussels and fish. My fiancé is a huge fan of their Lamb Shank ($21), which is slow roasted and served with mashed potatoes, the sauce is pretty delish. They feature a pretty comprehensive wine list, and a great selection of martinis.
Why I'm loving this place: Right now they are running a promotion through HalfOffDepot.com that will get you $40 of food for $20! Just click the link and it should take you right to the deal. The voucher can be used towards your total bill, including alcohol and can be used for anything on the menu. You get great food, lovely wine and a great deal all at the same time…I love it!
What's next?: Because Nick's Italian Kitchen is located in such a great spot, dinner doesn't have to be the only thing on your agenda. After dinner, head on over to Lake Eola and try the Lake Eola swan boats. Nothing like working off that dinner ☺
If you are in the mood for a nightcap: Why not hit up Spice for their late night happy hour from 9pm- close? Located at Lake Eola, Spice is a cool restaurant that features a large outdoor patio area that you can access right from Lake Eola. It's the perfect way to enjoy the light show from the Lake Eola fountain, savor a $4 drink, and enjoy your date night on a budget!
Nick's Italian Kitchen
100 S. Eola Drive, Orlando Fl 32801
Spice Steakhouse
407 E Central Blvd, Orlando Fl 32801
______________________________________________________________________________________
This date night experience was contributed by Tisha Mccray. "Let me take a moment to introduce myself. My name is Tisha and I live downtown in the Thorton Park area. I have been living downtown for about 4 years now and feel I have a pretty good grip on eating well….on a budget. Many of my friends don't understand how my fiancé and I can afford to eat out as much as we do, but I'm much better at finding great deals, than great recipes!"