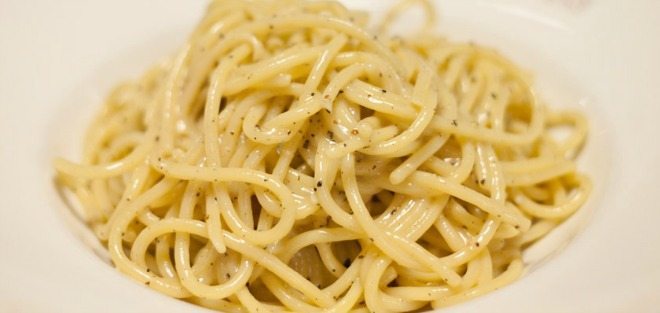 UPDATE: Ravalia's closed its Casselberry location and is now in Lake Mary at 579 Lake Emma Rd.
While I'm a huge fan of Yelp and Urbanspoon, nothing beats a personal restaurant recommendation coming from a close friend.
A few weeks ago, my friend Laura suggested that Marc and I check out Ravalia's Pasta Bar & Italian Rotisserie, a small Italian bistro that opened up in Casselberry last year.
Don't let its strip plaza locale fool you into thinking that Ravalia's is just another inconsequential family-owned diner that will come and go with little notice. That the place was jam-packed by 6:15pm this past Saturday should tell that you that there is a lot more to this made-from-scratch pasta joint than meets the eye.
There are many secrets to Ravalia's success: first a "just like Mama made it" menu of pasta dishes and pizza translates into amazing food. The two brothers that own the place (and personally welcome guests each night) spend hours everyday hand-making every spaghetti, fettuccini, penne, and cavatelli noodle.
Second, the prices are unreal.
During our last visit, Marc and I shared a plate of pasta, a pizza, a caprese salad plus he had a beer and I had a bellini. Our bill, with tip, came to $40! Everything coming out of Ravalia's kitchen could compete with anything served at Enzo's on the Lake (just down the street) but with prices 70% cheaper. Enzo's Penna Vodka: $21.95. Ravalia's: $5.49. Crazy!
Portions are ridiculously generous; especially the by-the-glass wine pours ($4.95) which are more like a half a bottle than the 4oz dribble other restaurants give.
For dessert, Ravalia's serves gourmet gelato but consider the Nutella Pizza for two. I wish I could tell you first-hand how delicious it is but we, foolishly, didn't save room.
I'm not going to say that a visit to Ravalia's is like being transported to Italy… it's still Casselberry people. But the spirit of Italy is there in the form of a welcoming atmosphere centered around really good food. When the dining room is in full swing, it has a feeling of a big Italian family; loud and celebratory.
Ravalia's has become our new favorite date night spot; try it and there's a very good chance it will become yours too.
By the way, Ravalia's also does 'To Go Meal's' that would be perfect for your next stay-at-home date night. 1 lb of fresh, homemade pasta + four garlic breadsticks is just $11.99.