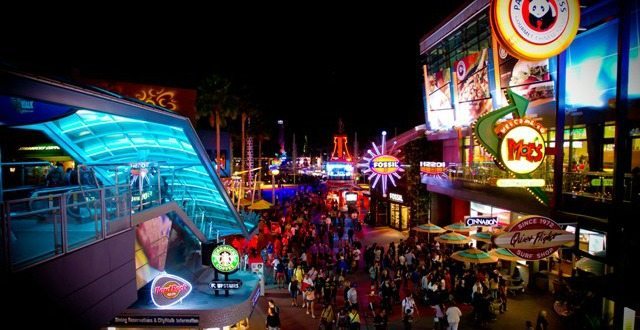 Here's a cheap and easy date night idea…
Grab dinner at one of CityWalk's restaurants then a movie at AMC Universal Cineplex 20 for only $21.95 per person with CityWalk's Meal & Movie Deal. Plus, parking is free after 6pm with proof of Florida residency.
With twenty screens, including an immersive IMAX Experience theater, the AMC Universal has all the perks of a state-of-the-art theater, including all-stadium seating with comfy high backed rocking chairs.
The Meal & Movie Deal includes one entrée item plus a coffee/tea/soft drink. Here's a list of participating restaurants and their menu offerings:
Bob Marley – A Tribute to Freedom
Catch a Fire – Chicken Sandwich
Sun is Shinning – Jamaican curry chicken with rice and peas
Natty Dread – Jamaican Veggie Patties
Belly Full – Jamaican Beef Patties
Fusion Bistro Sushi & Sake Bar
California Roll
Garden Vegetable Roll
Philadelphia Roll
Spicy Tuna Roll
Volcano Roll
sides:
Edamame
Ginger Garden Salad
Seaweed Salad
Miso Soup
Chicken Dumplings
California or Avocado/Cucumber Roll
*Choice of one entree and one side
Jimmy Buffett's Margaritaville
Margarita Pasta
Grilled Chicken Breast
Cheeseburger in Paradise
Chicken Caesar Salad
Key West Fish Sandwich
Jimmy's Jammin' Jambalaya
NASCAR SPORTS GRILLE, Orlando
All-American Burger*
Philly Cheese Steak
Chicken Tenders
Brickyard Bacon Onion Cheddar Burger*
Buffalo Chicken Sandwich*
Chicken Ranch Salad
Speedway Chicken Caesar Salad
*Sandwiches and Burgers come with Fries
NBA City
Chicken Quesadila
Caesar Salad
Traditional Cheese Pizza
Courtside Burger
Phillysteak Sandwich
*Sandwich and Courtside Burger come with Fries
Pat O'Brien'S – Orlando
Blackened Chicken Caesar
Cajun Mac and Cheese
N'awlins Shrimp Po'Boy
Flaming Fountain Chicken Sandwich
Courtyard Burger
Jambalaya
Muffaletta Sandwich