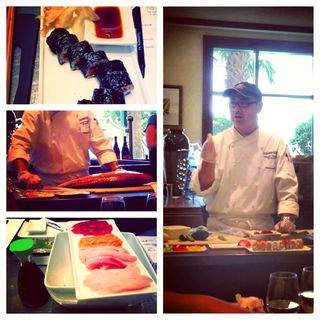 By Lauren Muench
** Several times a year, the Orlando Date Night Guide sends a different couple on an awesome date night. This Couple at Large then shares their experience on the blog. For April, we sent Lauren Muench and her boyfriend, Justin, to The Griffin Cooking School at Grande Lakes' JW Marriott. Here's what Lauren had to say about the experience:
Last weekend, I had the wonderful opportunity of attending a class presented by The Griffin Cooking School at Grande Lakes' JW Marriott. On the menu? SUSHI!
The event was held on Saturday, April 13 from 1-4pm in the Citron Restaurant located inside the beautiful JW Marriott hotel. In case you missed it, The Griffin Cooking School offers cooking classes once or twice a month. You can check out the schedule here.
For our Sushi Class, we were presented with a packet outlining the order of events, a few sushi-making essentials, and of course, many of the sushi fix-ins.
Chef's Takashi and Chau stood before us and explained a wide variety of information, including how to prepare sushi rice, where to purchase and how to filet the best sushi-grade fish, and finally, how to prepare our very own sushi rolls. Oh, and did I mention we were offered UNLIMITED WINE throughout the entire class? Definitely a bonus.
Our first roll that we learned how to prepare was a Spicy Tuna Hand Roll, made with rice, cucumber, and spicy tuna. I've never actually tried a hand roll before and I was pleasantly surprised. It was absolutely delicious and a wonderful start to the meal.
We were then instructed how to make a California roll, which would later transform into a Rainbow Roll. This was my absolute favorite roll of the class, made with lump crabmeat (no imitation krab here.), perfectly ripe avocado, and some of the freshest slices of sashimi I've honestly ever had.
Our final roll that we learned how to prepare was a Vegetable roll. Justin and I kind of cheated and added the remaining spicy tuna and sashimi slices to this roll. Making the various types of rolls was definitely the highlight of the class for both of us.
After we were stuffed beyond belief, then came the sake tasting. They provided us with 8 different types of sake to sample. Yes… eight different types of sake. We were definitely a fun crowd by the time this class was finished.
The Griffin Cooking School Sushi Class was one of the most fun and interesting things I have ever done. Justin and I have always wanted to learn how to make sushi and I felt like this class was perfect for us. Takashi and the rest of the Griffin Cooking School staff were extremely helpful and informative and offered assistance throughout the entire class to anyone who needed it (ahem… like myself).
Justin and I could not stop talking about how fun this class was and how we would have gladly spent the money to attend. I feel like this was the perfect date activity because it was something so different than anything we have ever done and it was fun getting to learn something new together.
I would absolutely recommend these classes for any couple looking to have a great time and try something fun and different. Thank you Kristen for this amazing opportunity.