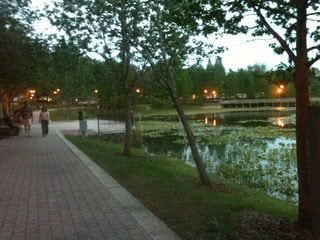 I've teamed up with Food Fun Adventure to create an unforgettable pop-up chef's table at the Cottage at Lake Lily on Friday, April 19 at 6:30pm.
Overlooking the sparkling waters of Maitland's Lake Lily, this romantic venue will host 10 couples for a four-course dinner created by Chef Bennett.
Designed to be an interactive experience, this starlit evening will give couples a front row seat of the meal preparation as well as an opportunity to learn some cooking skills and ask lots of questions.
Cost is $120 per couple including four-courses, tax and gratuity.
Known for innovative cooking classes, interactive events, and foodie tours through Winter Park, Food Fun Adventure artfully turns dinner into one of your most memorable meals.
The menu:
Curried cauliflower consommé
Tableside Caesar salad
Pan seared king salmon with white bean ragout, Swiss chard and white chocolate Bordeaux sauce
Banana Fosters over triple chocolate bread pudding
Join us for this one-of-a-kind foodie affair and extraordinary date night. Purchase tickets here.