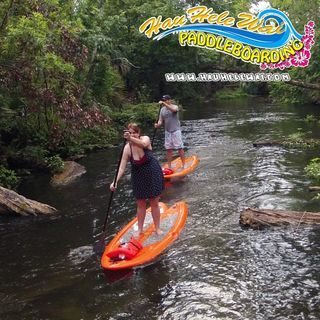 By Autumn Hassell & Ryan Simeyer
Mahalo!
Ryan and I are always looking for something new and exciting for our dates. It's also a plus if adventure is involved. Not quite the daredevil Ryan is, I tend to get a little scared if something is too risky. That's why paddle boarding with Hau Hele Wai Paddleboarding tuned out to be a happy medium for us both.
If you didn't know already, paddle boarding is becoming VERY popular and I felt like every person that canoed past us would ask "hey, how can I do that?" It's actually as fun as it looks. It's a completely different feeling from canoeing and way easier because you are in complete control.
When we met up with our guide, JT, the other day at Wekiwa Springs, I have to admit I was a little nervous. JT is pretty fit and also a surfer. I was so afraid of falling or not being able to do it right but JT was super polite and showed us step-by-step how to get on the board, paddle, and avoid running into things of course. After a few initial wobbles on the board, I felt super comfortable and ready to paddle. In fact, at one point I was learning some "tricks" on the board.
JT says only ONE person has ever fallen off the paddle board. Well, make that two. Ryan fell in and we all got a good laugh. In the words of our guide JT…"At worst you go swimming." And the water felt great!
The best part of the two-hour tour was the scenery. You are floating down a gorgeous spring and get to see nature at its finest. Birds, fish, trees, etc. etc. It's all part of the experience. There's nothing quite like getting in touch with nature once in awhile. Oh, and did I mention that you burn about 300 calories an hour… but you barely sweat!
JT is pretty flexible about where you go paddle boarding. Although he met us in Wekiwa Springs, he mostly teaches lessons near Shingle Creek. When you book your appointment with him just ask him if he is available closer to your own location.
Right now JT is running a special for Central Florida Residents. It's only $35 to come out for a two-hour beginner paddle.  Make sure you scroll to the bottom of his webpage and click on the link for the discount and then pick your date and time.
JT is also going to be offering a Happy Hour paddle on Wednesday evenings at 6pm. You bring the cooler, he'll bring the boards. Afterward, you head to Rogue Pub and the first drink is on him!
Don't doubt it… just do it! You won't regret it!
RYAN'S TAKE: I have to admit, paddleboarding is pretty easy and extremely fun. As Autumn and I enjoyed touring down the springs, it felt great to be outdoors and feel the cool rush of water flow over our feet. It was also great to get away from the "urban jungle" we are so used to, and just enjoy what nature has to offer.