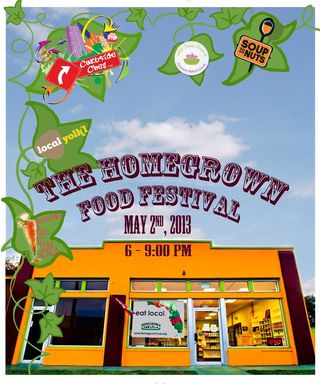 Local foodies take note: there are 2 wonderful events coming
up in May that are sure to float your boat.
The Homegrown Food
Festival
The first is a food truck night on Thursday, May 2, which will
feature mobile chefs that are committed to using local farmers and artisans in
their mobile meals. From 6pm – 9pm, you'll be able to choose from the
smorgasbord of options—some vegan,
some gluten-free— from trucks like Curbside Chef, which utilizes locally grown
aquaponic produce and herbs.
Soup to Nuts will be serving soups and grilled sandwiches
that can be ordered gluten or dairy-free. Local Yolk'l will have their
high-quality breakfast fare on hand. There will also be smoothies, fresh-baked
treats, and vegan cupcakes.
The Homegrown Food Festival will take place at Homegrown
Local Food Cooperative, 2310 N Orange Avenue, Orlando.
Farm to Table Dinner
at the Winter Garden Harvest Festival
The second annual Winter Garden Harvest Festival will
descend on Winter Garden's downtown historic district on Saturday, May 4 with a
full day of workshops, cooking demonstrations, tours, live music, and activities.
There will be a famer's market, a beer garden, and a stage where blues and bluegrass performers will help
everyone kick up their heels.
But the item on the calendar I'm most excited about is the festival's Farm To Table Dinner, which will take place from 7-9pm in Winter
Garden's beautiful downtown pavilion. The ticketed dinner will highlight West Orange
County's talented chefs and farm-fresh ingredients from local producers. Sommelier
selected wines, a signature spring cocktail and a handcrafted locally brewed
beer will accompany the delicious, locally sourced cuisine.
Tickets, which are $75 each, include drinks, tax and
gratuity, and help to support the festival and our local food movement.