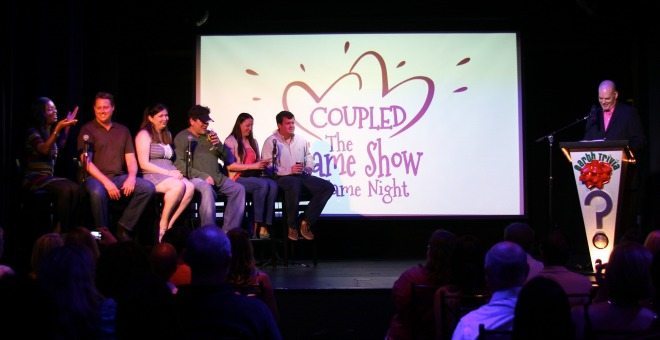 For the last four months, Curtis Earth (yep, the trivia guy) and I have been secretly working on an event that we are so excited to finally unveil.
Coupled: The Game Show & Game Night will debut at The Abbey on Saturday, June 15th at 7:30pm.
Beginning with a hilarious interpretation of the classic he said/she said Newlywed Game, the event will invite 6 couples to compete on stage for prizes as they demonstrate how well they REALLY know each other. Of course, Curtis will be mixing in trivia throughout so audience members can win some fabulous prizes too!
Immediately following the ninety-minute show, classic board games (Sorry, Connect Four, etc.) will be set up at tables throughout this posh venue so you and your sweetie can continue the fun well into the night. In addition, we'll be playing Twister, Musical Chairs, and Dance Freeze on the dance floor.
Expect lots of prizes, drink specials and more fun than you could ever imagine having on date night.
Tickets, which are $12.50 per person, can be purchased online in advance here as well as at The Abbey.
Hope to see you there!