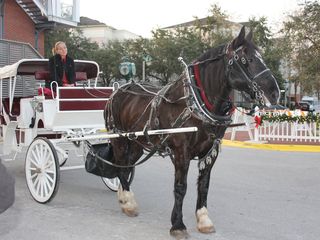 I'll be the first to admit it: Celebration is quite a hike for date night. But the Pleasantville town with its charming lakefront Town Center is worth a visit, at least once, for date night.
Besides being a great place to simply stroll around and window shop, Celebration is also home to a handful of noteworthy restaurants, including Columbia and Seito Sushi, as well as a pub, wine bar, ice cream shop, and vintage movie theater. Celebration Hotel's Sunday brunch provides another justification for making the drive.
If you're planning a weekend visit, consider upping the romance by sharing a ride on a horse-drawn carriage. For nearly a decade, Misty Blue Acres Carriage Company has been taking couples on scenic tours through Celebration's quintessentially American streets. Departing from the Town Center's lakefront, the one-horse carriage slowly meanders on a 20-minute ride through the neighborhood every Friday and Saturday evenings from 6pm – 10pm as well as Sundays from 11am – 3pm. Check their website for current pricing: http://mistyblueacres.com.
Guys planning to pop the question should consider calling Misty Blue Acres ahead of time (321-624-6380) so the ride time can be reserved and any other secret plans can be made.
Make sure you're signed up to receive the FREE weekly date night email delivered every Thursday… just in time for the weekend! Subscribe HERE.