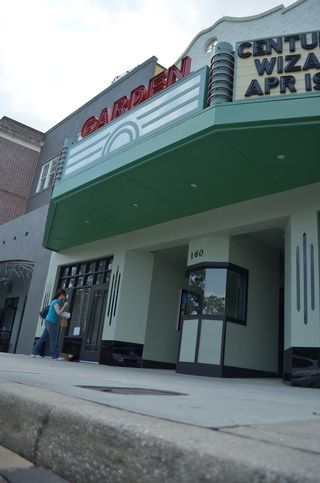 As you may have already noticed from my previous post about Winter Garden, I am pretty smitten with this area. Besides great restaurants and shops, as well as a stellar Saturday farmer's market, Winter Garden is also home to the Garden Theatre, which will host its annual Summer Movie Series beginning tomorrow.
From June to August, the Garden Theatre will screen vintage and cult movies on Thursdays and Fridays at 7pm.
Individual tickets are just $5 but you can get a pass to see EVERY film for just $55! Tickets are sold online (with a $1.50 service fee )or 2 hours prior to show at the Garden Theatre Box Office.
Here's the line-up:
June 13 Singin' in the Rain
June 14 Goonies
June 20 The Maltese Falcon
June 21 The Pink Panther
June 27 The Searchers
June 28 Yours, Mine and Ours
July 5 Star Trek II: The Wrath of Khan
July 11 Citizen Kane
July 12 Spaceballs
July 18 Chinatown
July 25 The Apartment
July 26 Monty Python & the Holy Grail
August 1 Rear Window
August 2 The Birdcage
August 8 All About Eve August 9 Waiting for Guffman
August 15 The Philadelphia Story
August 16 Ferris Bueller's Day Off
August 22 Mr. Smith Goes to Washington
August 23 Ghostbusters
Dinner and a Movie
Snag a table at one of these stupendous Winter Garden restaurants all within walking distance of the Garden Theatre:
The Chef's Table at the Edgewater Hotel
99 W Plant Street, Winter Garden
alFresco
146 W Plant Street, Winter Garden
Moon Cricket Grille
14 W Plant Street, Winter Garden
The Attic Door (café and wine bar)
28 W Plant Street, Winter Garden