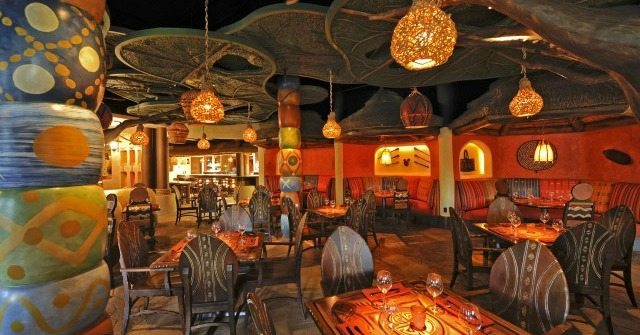 I don't mean to be so cynical about theme park dining but in my experience it often turns out to be either over-priced or a little too kitschy for my taste. Obviously there are some fabulous exceptions to this rule and my recent visit to Sanaa proved this restaurant is one of them.
Located inside the Kidani Village at Disney's Animal Kingdom Lodge (this is outside the Animal Kingdom theme park) Sanaa features a menu reflecting a fusion of Indian and African cuisine. While the food is excellent, the real draw is the restaurant's location, which overlooks the Sunset Savanna. From inside the vibrantly decorated dining room, guests can catch glimpses of giraffe, zebras, and gazelles as they happily roam past the expansive windows. Squeals of delight are commonplace (and not just from the kids!).
For dinner, I highly suggest (and so will your server) ordering the Indian Style Bread Service, which consists of your choice of three types of bread (naan) accompanied but sauces ranging from super spicy to slightly sweet. We also really enjoyed the salad sampler, which was a trio of salads easily shared between two people. Notice how everything is very shareable? I love this for date night!
We continued eating family style when we ordered our entrée: slow-cooked, melt-in-your-mouth Butter Chicken and Bison Masala served with with basmati rice or five-grain pilaf. Flawless!
For dessert, I'd suggest indulging in the Dessert Trio, which consists of Tanzanian Chocolate Mousse, Carrot Halva Cake, and Chai Cream.
In addition to the tremendously flavorful food, Sanaa also features some pretty creative cocktails (African Starr Mojito Starr, Malawi Mango Margarita, etc.) as well as beer from Kenya and India.
TIPS: Definitely get there early and enjoy a few pre-dinner moments on the outdoor observation deck that juts out onto the "Savannah." You can get some great views of the wildlife from there as well as from the upper observation decks on the second floor of Kidani Village's lobby.
Since the Sunset Savannah is not lit at night, one of the best times to visit for date night is when the moon is at its fullest and it illuminates the scene. A later reservation time will increase the likelihood of a window-side table and decrease the chance that small kids might ruin the mood.
I was so totally impressed with everything at Sanaa: the food, the service, and the setting. Everything was very well priced too. Visitors to Orlando, especially those staying at Disney, should absolutely give it a try, but locals ought to check it out too. In just one visit it quickly became one of my favorite area restaurants and I can't wait to go back again.