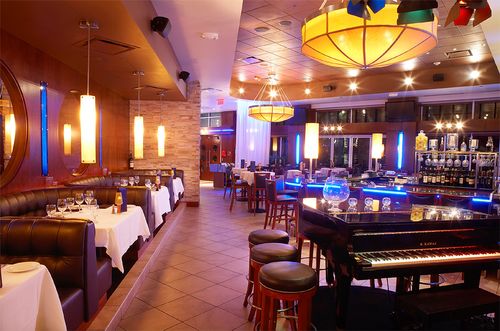 In my search for Orlando's best restaurants for date night, I'm always on the lookout for places that offer something beyond the typical dining room experience. One look at the cozy booths tucked into the side of Ocean Prime's Blu Lounge and I had one thought: Wow… this is perfect!
Besides the obvious perk of being snuggled up together in your only little slice of this amazing seafood/steak restaurant, you'll have a front row seat to the nightly live music, which is typically an outstanding acoustic musician. The lounge features live music Wednesday through Saturday.
Even though the booths aren't inside the main dining room, the full menu is still available. On a recent visit, we tried a handful of dishes, beginning with the Shellfish Cobb Salad, which came loaded with lobster, crab and shrimp drizzled in a tangy dressing. It was excellent. A few other appetizers to consider are the Jumbo Lump Crab Cake (a crowd favorite here) and the Aged Wisconsin Cheddar Fondue, which is perfect for a sharing. In fact, this appetizer plus a few cocktails might be the perfect pairing if you wander in later in the night and don't care for entrees.
Seafood is definitely the top of the totem pole at Ocean Prime, and for good reason. The chef has created ten seafood-centric entrees each with their own delectable flavor combinations. I opted for the Chilean Sea Bass with a Champagne Truffle Sauce. In the past I've had the Ginger Salmon with a Soy Butter Sauce. Both were excellent. I would be remiss not to mention the six different cuts of steak offered at Ocean Prime, especially since they come with your choice of six different accompaniments including Oscar style and Maytag Bleu Cheese Crust.
One of the things I love about this menu is the eight different types of potatoes you can choose from as your side. There's the Jalapeño Au Gratin Sliced Potatoes, Parmesan Truffle French Fries, and the Lobster Mashed Potatoes… just to name a few. Honestly, you could come and make a meal just out of all the potato dishes. Hmmm… that might be kind of fun, actually.
At this point in the meal, it's very unlikely you've got room left for dessert, which will be a bummer because the Chocolate Peanut Butter Pie is epic! If that's the case, opt instead for another cocktail.
Ocean Prime's cocktail menu is equal parts creative, unusual, and tasty. My favorite is the Black Orchid (Belvedere Black Raspberry Vodka, St. Germaine Elderflower Liqueur, hand-squeezed lemon and white cranberry juice) but the Pear Grapefruit Fizz (Asian Pear Infused Finlandia Grapefruit Vodka, hand-squeezed lime and grapefruit soda) is a close second.
A great time to give Ocean Prime a test drive is during its happy hour, which happens weeknights from 4pm – 7pm. The drinks mentioned above, as well as seven more handcrafted cocktails, are priced at just $6 each (that's a steal!), select glasses of wine are also $6 and select beers are $2 and $3. You'll also find seven appetizers priced from $6-$10, including Bacon Bleu Cheese Kobe Sliders and Risotto Fries.
For a big, special occasion night or for quick drinks and snacks at the gorgeous Blu Lounge bar, I think Ocean Prime is a superb choice. And when you make your reservation, don't forget to book one of those booths! They really are the best seats in the house.