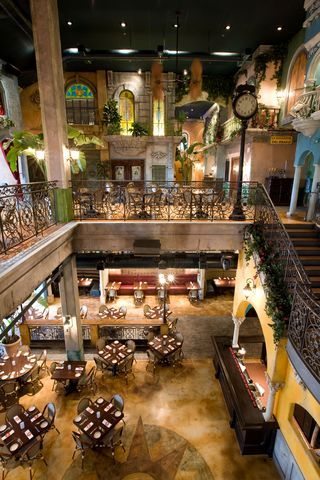 By Tisha Mccray
Recently I had the opportunity to try out Cuba Libre's new feature:  Tapas Tuesday. I love ordering small plates of food with fellow diners; it automatically creates an atmosphere of sharing and exploration and you can get away with eating several different things.
Cuba Libre's atmosphere is welcoming starting from the minute you walk in the door. The music, the lighting, and the grand dining room all give Cuba Libra an old world feel. This dining experience is truly a treat for the senses. It's like a seductively lit cantina, with a huge oak bar, awesome décor and  tables perfect for nuzzling up to your sweetie.
Located in Pointe Orlando, Cuba Libre is surrounded by restaurants, shops and bars, a virtual hotspot of activity. Their new Tapas Tuesday allows you to eat all of the tapas you want for $26.95 per person. When I told my fiancé about this deal he said "Challenge accepted!" and we headed to dinner.
There is a special menu for Tapas Tuesday, but that's not to say that the menu is limited. There are food choices in several different categories, and we were happy with everything we chose. EVERYTHING was delicious and the service was awesome. Suggestion: ask the server for a drink recommendation… they know the good stuff!  We started our tapas adventure in rounds of three and below is what we gorged…I mean dined on.
Round 1
We started out with the Grilled Mushroom Escabeche Salad which was a plate of cold mushrooms served on tender greens. They were so good, and I was tempted to order another serving, but then our next tapas order arrived: Cuban Sandwich Spring Rolls and Papas Rellenas. For my fiancé, the rolls were his favorite dish of the night. They are everything you would expect from a Cuban sandwich, pork loin, ham, cheese, mustard, all contained in a spring roll wrapper and deep fried. This twist on the sandwich seemed to concentrate the flavors contained inside. That's how I would describe all of the dishes we had… they were the traditionals but with a twist that created amazing flavors!
Round 2
Our next round featured both of the Ceviches they offered; Crab Ceviche and Shrimp Ceviche. We also ordered Levanta Muerto Seafood Soup. The Crab Ceviche featured tomatillo salsa, smoked cheddar cheese and candied peanuts. Yup, candied peanuts! I was skeptical, but once I tried it, I was in love! The tomatillo salsa is tangy, yet the sweetness of the candied peanuts balances the flavors and emphasizes the succulent lump crab meat. The Ceviches will cost you an additional $3 but they are well worth it! The soup featured shrimp, scallops, crabmeat and mussels. The whole bowl was amazing and we found ourselves playing "rock, paper, scissors" for the last bites. I won.
Round 3
As you can guess, by this time we were slowing down, but wanted to try a few more things. We ordered the Arepa Rellenas, Guacamole Cubano and Beef and Chicken Empanadas. My personal favorite of the night was the Arepa Rellenas. They are grilled white corn cakes filled with short rib "ropa vieja" and mozzarella cheese. I almost didn't share this… I think I gave him one bite. The beef was so tender, and I've never had such a well prepared arepa in my life. It was cooked to perfection and again, all the flavors and ingredients resulted in an amazing dish. Get this! The Guacamole was fresh and creamy and the empanadas were stuffed full of ingredients. I hate half-empty empanadas!
Why I'm loving this place: The scenery is beautiful. The lobby and outdoor patio areas are so well done, it makes you want to get up and do the tango! From the moment we stepped into the restaurant, we were treated to an amazing dinner, great service, and lovely surroundings. I would definitely recommend going to Tapas Tuesday to experience several different dishes, at a great price.
What's next?: Like I've mentioned earlier, Cuba Libre is located within Pointe Orlando, so after dinner you can always walk around the plaza (we did this to walk off some of the food we just devoured), see a comedy show , or even get a late night drink at Funky Monkey. There are lots of great things to do at Pointe Orlando, and making a night of it is easy when coming to this venue.