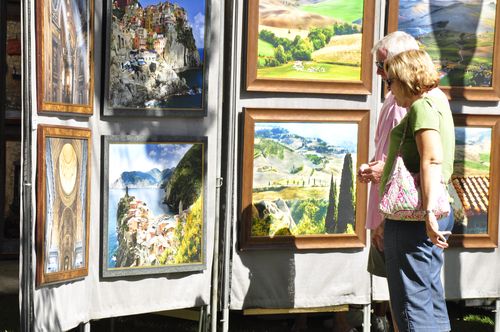 I have a confession to make… I NEVER go to the Winter Park Autumn Art Festival. I went once seven years ago and felt so annoyed by the crowds that I never went again. But when I noticed it was back again (this weekend in fact) I decided to give it another chance.
Why? Because this year I've done a little pre-festival reconnaissance to find out how to maximize the enjoyment while avoiding all the aggravating pitfalls. Here are a few tips:
1. Timing is everything
The best time to attend the festival is before 11am on either morning, but especially on Sunday when the crowds are the thinnest.
2. Park that buggy
Park Avenue is closed to car traffic from New England to Canton, which means finding parking can be a bit of a pain as the day drags on. Best bets are the SunTrust and Canton Avenue garages.
3. Ditch the car
Consider pedaling to the festival and parking your ride with the bike valet that will be available for guests in the median of Morse Boulevard, west of the railroad tracks.
4. Eat smart
Park Avenue's eateries will be jammed so just skip 'em altogether. Instead, pack a gourmet picnic basket to share in the park or take a westbound wander down New England and grab some nosh at the restaurants in Hannibal Square.
5. Shop smart
If you're seriously considering buying some art, spend some time checking out the festival guide ahead of time, which lists artists by medium and also gives a glimpse of the works you can expect. You can cross-reference the list with the festival map (also found in the festival guide) and circle the booths for the artists you are really intent on visiting. By the way, a little birdie told me that it's not kosher to ask an artist to lower their prices UNLESS you are buying multiple pieces.
6. To bring or not to bring
Leave the dog at home…. pets are not allowed in Central Park. But bring a blanket or chairs so you have somewhere to sit when you want to watch the live entertainment, which is scheduled every hour on the hour from 9am to 3pm. Bring an umbrella; this event is rain or shine. Oh, and bring cash if you want to snag some festival fare from the concession area. Hello kettle corn!
Now celebrating its 40th anniversary, the Winter Park Autumn Art Festival takes place Saturday, October 12 and Sunday, October 13, 2013 from 9:00 a.m. – 5:00 p.m. This all Florida artist festival will showcase works— including ceramics, drawings and graphics, fiber, fine crafts, jewelry, painting, photography and sculpture—by more than 150 artists during the two-day event in Central Park. Prize money awarded by festival judges in 2013 will exceed $16,000. The event is free and open to the public.
For more information, visit www.autumnartfestival.org or call (407) 644-8281. The festival can also be found at www.facebook.com/autumnartfestival and on Twitter at @WPAutumnArtFest.