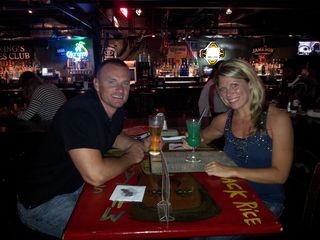 By Cassie Ahrens
*** Each month, Great Dates Orlando sends a different couple on an awesome date night. This Couple at Large then shares their experience on the blog. For September, we sent Cassie Ahrens and her boyfriend, Scott, to B.B. King's Restaurant & Blues Club at Pointe Orlando. Here's what Cassie had to say about the experience: 
We were the Couple at Large for the month of September and sent to a great place over in Pointe Orlando called B.B. King's. We were unable to choose a Friday or Saturday night, so we went on a Monday night. It did not seem to matter which night we chose; this place is always a good time.
When we walked in we were expected as the couple for our special date night. We had a reserved table right up front, close to where the band was playing. There was even a cool sign made that had both of our names on it. We felt like royalty!
When our server arrived, he congratulated us and took our drink order. I wanted to try a specialty drink so I ordered a blue cocktail called The Lucille. Pretty tasty, very sweet.
For dinner, Scott ordered the Full Rack of Ribs, which was a great choice. He devoured them all. I ordered the Carolina BBQ Salmon, which was very good and something a little different with the BBQ sauce and the salmon. It was a great mix. I would attribute that to the New Orleans style flair that was themed throughout the food.
As dinner went on, there was an amazing blues band (The Betty Fox Band) playing a bunch of there own singles, and they were GREAT!! I recommend getting up to dance and letting that music move you.
We couldn't skip dessert, so we had to try the Bread Pudding, the Peach Cobbler, and the Brownie Sundae. Haha! Well, they were all fabulous!!  My favorite of all was the Bread Pudding.
This was such a great night and we will definitely be coming out to B.B. King's again to enjoy the great music and awesome food. Thank you so much for this experience.
___________________________________________
B.B. King's is a live entertainment venue and supper-club style restaurant serving Southern comfort food fused with flavors from around the globe. Each night, live bands take to the stage and present a mix of blues, Motown, and funk music ideal for shaking your booty on the dance floor. The colorful locale consists of three different areas ranging from an outside patio, a mezzanine that looks over the main stage and a large seating area with live music daily.