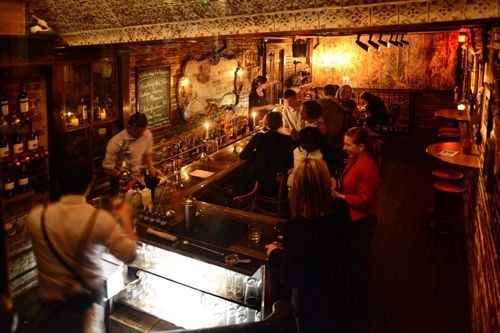 Though we overheard a guy say, "This would be the best place to take a mistress," Jesse and I think Hanson's Shoe Repair is a great place to take your Mrs.—or girlfriend.
Located in downtown Orlando, the speakeasy isn't your typical downtown affair. It's located above NV Art Bar on Pine Street, and, in keeping with the Prohibition theme, a password is required to get in, which changes daily. It's easy enough to access (call 407-476-9446). I love that the name of the bar picks up on some of Orlando's history: The original owner was a cobbler named Mr. Hanson who was there in the late 1800s, operating as Hanson's Shoe Repair Shop.
The space is intimate and cozy, with a stunning design aesthetic—exposed brick, oak-wood panel ceilings, and a random collection of art and bric-a-brac, including a vintage cobbler's last (a holding device shaped like a human foot that is used to fashion or repair shoes). The bar is located inside and there's a fantastic outdoor patio, which instantly became my new favorite space downtown. You can sit outside, enjoy your beverage, and listen to music (a range of indie music while we were there). The high walls provide privacy and the option to look up and see the stars.
You have to order to drinks at the bar inside, and Rene Nguyen was the bartender that night. Jesse ordered an old-fashioned. I've been on a bourbon kick lately, so I ordered a Southpaw (Buffalo Trace Bourbon, Aperol, simple syrup, lemon juice, and peach jam—yes, peach jam). It was strong and delicious. The type of drink I imagine existed during Hemingway and Faulkner's era. It didn't disappoint.
The drinks here take some time to prepare, but they're worth the wait. In fact, part of what I enjoyed about the Hanson's experience—and there was a lot to enjoy—was watching the care the bartender took in making our drinks. It helped set the pace for the night, which was great since it was a Friday night and we both needed to shift gears after work. If you're interested in the craft of making cocktails, Hanson's has two barstools right in front of the bartender's station (yes, he has a designated station), so we asked Rene some questions:
What's the best place in the bar for privacy?
Every part of Hanson's can provide a great sense of privacy if you're looking to entertain a date. Within the bar, there are two high-tops against the wall that can each seat two people. I also dedicate two seats in front of my station to serve as a chef's table so to speak. The patio area also offers a number of creative and private seating arrangements.
What is your favorite cocktail to make?
For me personally, I love the opportunity to make drinks off the menu for our guests. It allows me to learn each person's preferred flavor profile and create a cocktail that suits their taste. The best experience is seeing people's reactions when you hit the nail on the head. So if I'm at the bar I would definitely encourage people to chat with me about what they like and don't like.
What's your favorite alcohol?
I naturally lean towards whiskeys such as bourbon and rye in addition to Italian and French aperitifs and digestifs. They all provide amazing depth of flavor and complexity. When I enjoy a cocktail, I look to taste the different spirits. I'm not looking to mask them with juices and sugar.
When's the best night to bring a date?
I would say Tuesday through Thursday in addition to Sunday would be great date nights at Hanson's. It's much more of a relaxed and intimate ambiance without the weekend revelers. If you choose to go on a Friday or Saturday, I would suggest arriving early to avoid any waits.
What's your favorite thing about Hanson's that most people don't know?
We actually get a lot of compliments on the music we play when we don't have live entertainment. People often think we're using an Internet radio program but in actuality we each have our own individual playlists that we rotate throughout the week. You'll often hear 60s and 70s French pop to classic soul and funk to indie lo-fi and rock. We're big music enthusiasts at Hanson's.
What's the best way to cure a hangover from Hanson's?
If you have a long night at Hanson's or any bar for that matter, take a hot shower the next morning, drink plenty of Gatorade, and eat something really hearty like dim sum at Lam's Garden on Colonial. Take it from a bartender, we know best.
(Images courtesy of Hanson's Shoe Repair)