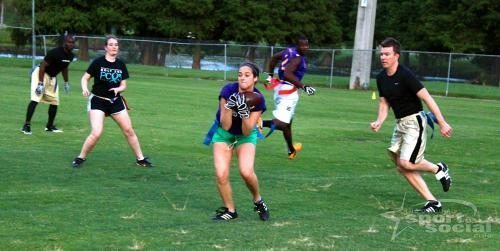 I recently met Ezra Simmons, owner of the Orlando Sport and Social Club, who really turned me on to the idea of adult recreational sports leagues as a great way for couples to spend quality time together.
"People get to play sports in school and college and then suddenly you graduate and you're stuck behind a desk," says Ezra, who offers a year-round selection of intramural sports leagues. "We have about 300 teams in five different sports every season, mostly co-ed."
While Ezra doesn't specifically aim his leagues at couples, naturally many gravitate to the club's fun and non-competitive vibe. "We have a lot of couples sign up but we also have had a lot of singles meet, start dating and marry inside the club." That list includes Ezra and his wife, who met on a flag football league a few years ago. He's even seen a marriage proposal on the softball field.
"You don't need to join as a full team, you can sign up as a couple and we can assign you to a team," says Ezra, who offers kickball, flag football, sand volleyball, softball, and soccer leagues on various nights and afternoons all week long mainly at parks in Winter Park, downtown Orlando and Casselberry.
Orlando Sport and Social Club aims its intramurals at young professionals with the majority of participants being 23-40. 90% of leagues are co-ed. There are no membership fees, only per-season fees to join a league, about $60-$70 per person.
Ezra runs a new 7-week season (with 2 tournament weeks) each winter, spring, summer and fall with registration opening about a month before each season starts. He also plans bar crawls, happy hours, tournaments, and fun runs throughout the year.
"It's been a great networking avenue and a way to expand a couple's social circle, especially for people who work a lot or have just moved to Orlando," Ezra says.
Learn more at www.orlandosportandsocialclub.com.