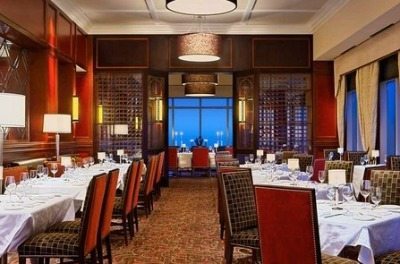 Now through November 9, the Waldorf Astoria Orlando will be hosting
a bevy of culinary events worth checking out. Besides chocolate buffets and
sushi pairing experiences, the Waldorf's Food & Wine Weekends feature A
Taste of Waldorf Astoria, a seven-course culinary journey held inside the hotel's
premier restaurant, Bull & Bear.
On Friday and Saturday evenings, 6pm – 10pm, guests can experience
an exclusive menu comprised of some of the most celebrated dishes from the
master chefs of the most renowned Waldorf Astoria hotels around the world. Here's
a snapshot of the menu:
Rome Cavalieri
Prime Beef Paper, Amaranth Cracker, Beluga Caviar<
Waldorf Astoria Ras al Khaimah
Velvet Of Coral Lentils, Cumin Croutons, Lemon Essence
Trianon Palace Versailles
Ravioli Of Langoustine And Lobster Steamed In Riesling
Bisque, Lime Bouillabaisse
The Roosevelt New Orleans
Filet Of Red Fish, Oyster Poche Au Beurre Blanc, Maque Choux
Waldorf Shanghai on the Bund
Lake Meadow Organic Chicken, Crispy Millet, Green Papaya
Chutney, Green Curry
Waldorf Astoria Orlando
Pinot Braised Bison Ribs, Parsnips Three Ways, Suc De
Cuisson
Waldorf Astoria Berlin
Berliner Pfannkuchen
Cost is $110 per person, plus tax and gratuity.
For a complete list of all the happenings scheduled during
Waldorf's Food & Wine Weekends, check out the event guide.