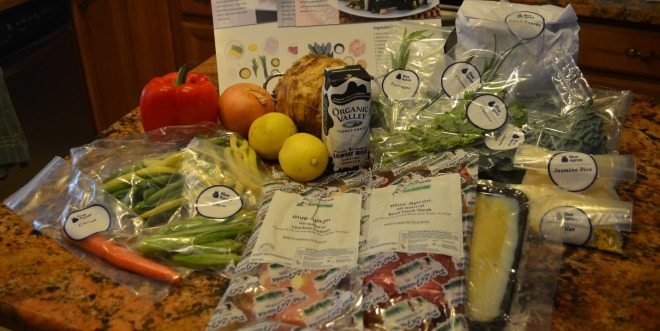 I'd hazard a guess that most people don't mind cooking. Homemade food, when done well, can truly rival a good restaurant. But there's all the planning and shopping and chopping and measuring that go along with the task. Necessary evils, I had decided, until I discovered home delivery meal kits, which have sprung up all over the internet.
Created by crafty foodpreneurs who've realized that a home cooked meal can transform into a fun experience when most of the work is taken out of the equation, these kits arrive at your door with absolutely everything you need to whip up a gourmet meal.
I recently tested out two home delivery meal companies: Blue Apron and HelloFresh, which I will write about later this week.
I had a fantastic experience from the moment my Blue Apron box arrived on my doorstep via FedEx. As I opened the cardboard box and peeled away the chill bags that had kept my fresh food items cold during their travels, I was delighted to see that each ingredient for my next three dinners was individually pre-measured, right down to the half tablespoon, in little containers and packages.
Inside I also found three recipe cards, each with step-by-step instructions and photos for our meals. Each night, we spread out a recipe card and corresponding ingredients and set to work preparing a scrumptious supper.
Blue Apron's meal kits come in either vegetarian or meat/fish options and serve ample portions for your choice of 2, 4 or 6 people. All you need is the gear—pots, pans, spatula, etc.—and you're off and cooking.
Ideal for stay-at-home date nights or weekend getaways where the lodging offers a full kitchen, these kits make cooking together easy, pleasurable and AFFORDABLE!! Blue Apron's 2-person meat/fish 3-meal package is priced at just $59.94 including delivery. That's only $10 per person, per meal and MUCH less than dinner out at a local restaurant.
I'm now a huge fan of this service, not just because it took us out of the grind of meal making for a few dinners but also because it turned out to be a cooking lesson in disguise. I'd make all the recipes again, especially the Parmesan Crusted Chicken, which was served with roasted hazelnuts mixed in with a kale salad. Delicious! I never would have attempted this from a recipe book but it will definitely be cooked in the Manieri household again.
Here are some pics to help paint the picture for you: