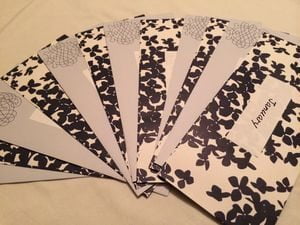 Psst… guys! I have the answer to your "what on earth am I going to get her for Christmas" dilemma!
It's a Year of Date Nights!
Can you imagine anything melting her heart more than 12 thoughtfully crafted date nights tucked inside 12 beautiful envelopes? Each month, she'll peel open her next surprise to see where you'll be taking her. It's the gift that keeps on giving all year long.
This customized set is the perfect present for that special someone in your life. I will work with you directly to create 12 personalized date night ideas for your sweetie, each filled with a special itinerary that suits your schedule, tastes and budget.
You'll have a 20-minute call with me (Kristen Manieri of Great Dates Orlando.com) to determine your 12 unique date nights. Then, I'll prepare 12 distinct envelopes each with a date night printed on high-quality card stock inside. Finally, the envelopes will be sealed and tied with a plush ribbon and mailed within 3 days of our call.
$35.95 plus shipping. CLICK HERE to order.
** Please note: All orders completed by December 19th will be mailed in time for Christmas.