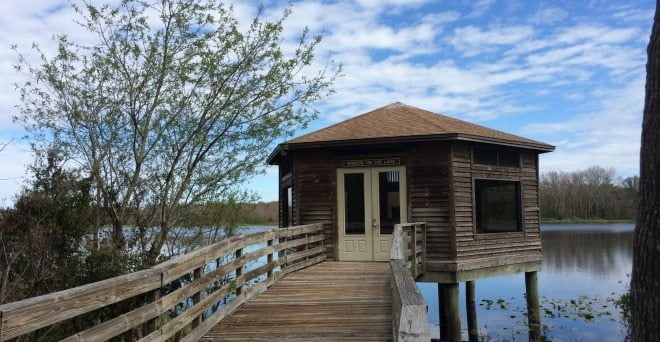 Marc and I were blown away by a recent visit to Lake Lotus Park, arguably one of Altamonte Springs' best-kept secrets. We had no idea that such a tranquil and meticulously maintained lakeside hiking trail existed just a few miles from our home.
The 1.7-mile trail, which winds its way past Lake Lotus and under towering cypress trees, is primarily made up of wooden boardwalks and level footpaths.
Along the way you'll see lots of birdlife, maybe even a gator or two. Be sure to step into the Windows to the Lake pavilion, which showcases the area's flora and fauna via a permanent wildlife exhibit.
While alcohol is prohibited, you can definitely bring in a cooler or basket with picnic provisions. There are lots of spots along the trail to settle into a bench and enjoy your lunch.
Lake Lotus Park is open Thursday through Sunday 8:30 am to 5:30 pm. You can drive right in Thursdays and Fridays, but on weekends you'll park on the opposite side of SR 414 (Maitland Blvd) and take the trolley into the park. Trolleys come every ten minutes or so.
This 150-acre nature preserve is located at 1153 Lake Lotus Park Road in Altamonte Springs, just a few miles west of Interstate 4 on SR 414 (Maitland Blvd). There are onsite publics restrooms.
Oh, and no dogs.
For more information, check out this very helpful website, Florida Hikes, which will offer lots of tips and details about the Lake Lotus hike as well as many others in the area.