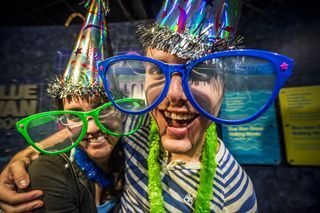 Come see how grown-ups do the Orlando Science Center when it's reserved strictly for adults at Science Night Live on Saturday, Feb. 22 from 8 p.m. – 11 p.m.
Guests can celebrate Thomas Edison's birthday by interacting with the man himself and witnessing the electrifying "High Voltage" show; experience the premiere of "Flight of the Butterflies" in the Dr. Phillips CineDome; view stars and planets through the giant refractor telescope in the Crosby Observatory; conduct lab experiments in Dr. Dare's Laboratory; delight in food and adult beverages available for purchase; and engage in science trivia to win prizes.
During this event, the rest of the Science Center's four floors of exhibits are available for exploration, including "NatureWorks"; "Science Park"; "Engineer It!"; "Our Planet, Our Universe"; and "DinoDigs."
Guests can also enjoy scrumptious foods and adult beverages available for purchase courtesy of John Michael Weddings & Special Events. Menu items include brisket and potatoes, shrimp 'n' grits, pasta and salad, and warm apple crisp. To top things off, choose from delicious cake pops, cupcakes or dip into the delectable chocolate fountain presented by Hello Sugar! Desserts (formerly RW Chocolate). Cash or credit cards are accepted. ATMs are on-site for your convenience.
Admission, which is $15 per person, includes access to all four floors of exhibits, live programming and presentations, "Flight of the Butterflies," and night-time viewing in the Crosby Observatory. Parking is free in the Science Center parking garage. Members can enjoy Science Night Live at no charge.
For more information, call 407-514-2000 or visit www.osc.org/snl.