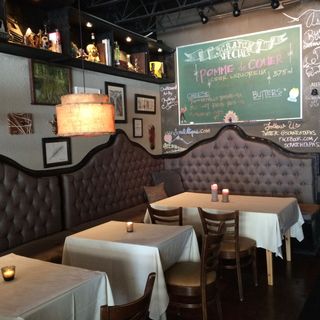 I won't lie. I'm a little on the fence about the whole tapas thing. On one hand, I love being able to explore more of a menu via small plates. But… I'm always a little shocked when we get the bill, which tends to be higher than had we gone the typical apps and entrees route.
That being said, if you've resolved the tapas conundrum for yourself, you need to go to Scratch, because while each dish is small, they are huge on flavor and will each take you on a different culinary adventure.
The cuisine, which unfolds as 5 cold and 10 hot tapas dishes, is American with a focus on local and seasonal. The wine list is good but nothing compared to the colossal beer offering, which boasts more than 50 varieties by draft and bottle.
The dining room is cozy, whimsically decorated and flanked by long bar ideal for dining at and enjoying wine flights. The only thing I would change about this little eatery is the music, which was a mix of 50s and 60s hits played a little too loud.
Here are some photos from a recent visit to help paint the picture for you: