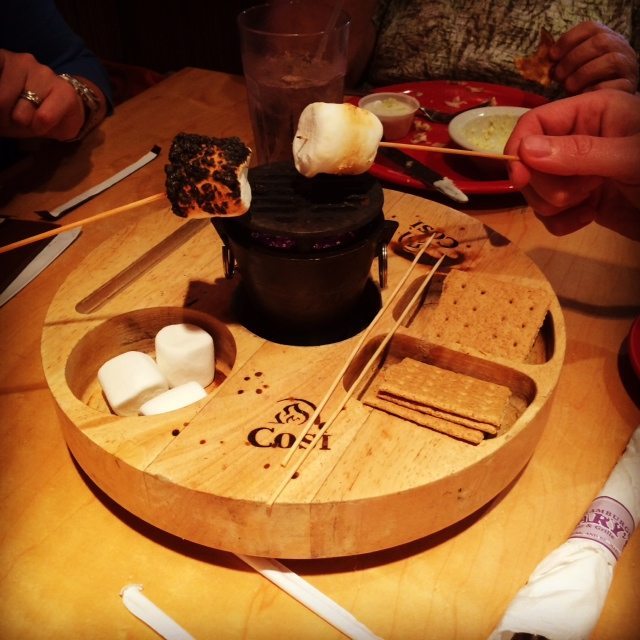 Life is uncertain. Eat dessert first. ~Ernestine Ulmer
Why must we always wait until the end of a meal to dive into dessert? Take a departure from our culinary customs, even just for one night, and head straight for the best part of dinner with these sweet over savory suggestions for a dessert-only date night.
Mary Tyler S'Mores
Hamburger Mary's, Orlando
Servers bring an all-in kit, with marshmallows, chocolate and graham crackers, right to your table for this do-it-yourself treat. The bonus is seeing which of you is the master roaster.
Chocolate Soufflé
Hannibal's on the Square, Winter Park
Served piping hot and drizzled with raspberry coulis, this airy but decadent dessert is best enjoyed at Hannibal's chic bar where you can sip a creative cocktail (or two) while you wait 25 minutes for your dessert to bake.
Sharkfin Pie
Mitchell's Fish Market, Winter Park
Standing about nearly a foot high, this ooey gooey ice cream pie begins with an Oreo cookie crust followed by layers of fudge, peanut butter, and honey roasted peanuts. Yes, it's as good as it sounds.
Flaming Bananas Foster
Eddie V's, Orlando (Sand Lake)
Two scoops of velvety butter pecan ice cream flank a butter cake topped with sliced bananas, and it's all set aglow by your server at your table thanks to the dessert's generous dousing of rum. 
Chocolate Hurricane 
Margaritaville, CityWalk
This smorgasbord of sweetness is an entire pint of vanilla bean ice cream served with brownies, Kit Kat and Heath bars, pirouette and mini shortbread cookies, sliced banana, whipped cream and chopped macadamia nuts. Then it's swirled tableside with chocolate and caramel sauces. Don't even try to calculate the calories.
Stay-At-Home Sweets
Can't steal away for a few uninterrupted hours? Grab a treat from one of these dessert dynamos and enjoy the sugar bliss on the couch.
4 Rivers Sweet Shop
A huge selection of mile-high cake slices as well as bars, chocolate covered Oreos, and crazy cupcakes (Mountain Dew Dorito Cupcake, for example) await at the Winter Park, Longwood, Jacksonville and Gainesville locations.
The Dessert Lady 
She may have moved her delectable digs off Church Street and over to Sand Lake's Restaurant Row (she's right next door to Christini's now) but Patti's legendary cakes and pies haven't changed a bit. Everyone has their favorite but Chocolate Zucotto takes the cake in our books. Open Monday – Saturday 10:00 am – 6:00 pm.
Ricky's Picks
Need more ideas? Here are Tasty Chomps' suggestions for a few fabulous date night desserts…
Grand Marnier Souffle, The Venetian Room
Banana Napoleon, Flying Fish Café
Knickerbocker Glory, 
Crimson Tavern
C-4, Kabooki Sushi
Macarons and Violet Gelato, Le Macaron