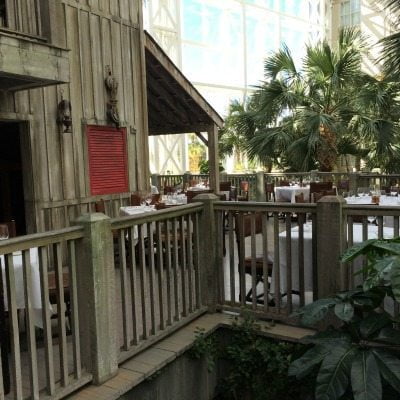 There are several elements that contribute to making a good steakhouse worthy of praise. Fine cuts of meat, of course. Salads beyond the wedge are a necessary touch, as are dessert menus with more than just a mile-high carrot cake or an overly sweet slice of red velvet. And of course you'd expect a novel-esque wine list and exceptionally attentive service, too. These are the hallmarks of fine steakhouses everywhere, right?
But beyond these typical traits, what makes a steakhouse really stand out? The setting, and by that I mean décor, ambiance and the backdrop all rolled into one. For all the standard steakhouse perks but the added bonus of an unparalleled setting, look no further than Old Hickory Steakhouse at the Gaylord Palms Resort.
Anyone who's been to Gaylord knows what I'm talking about. Clandestinely tucked into the Everglades wing of the resort's 4.5-acre atrium, Old Hickory Steakhouse might seem like a series of rustic cottages to the eyes of folks passing by, but inside the offerings are far from shoddy. Tables on the exterior decks, which are still inside the flawlessly climate and sound controlled resort, are surrounded by greenery and diners are treated to the sounds of a bubbling brook and sunset views as they unhurriedly travel through the restaurant's culinary sojourn. If you find yourself continually looking at each other and saying "wow!" don't worry… we did the same thing during our inaugural visit.
THE SCENE
Trees dripping with moss, towering palms and bald cypress frame the sprawling space, which houses a bar plus several interior and exterior dining rooms throughout the cottage-like abodes where distressed wood meets leather and white clothed tables. Drenched in natural light, the dining decks really begin to take on an outdoorsy feel once the sun goes down and the lamplights begin to glow. Through this aesthetic, the restaurant perfectly marries classy with cozy and that translates into a place where you'd be happy to celebrate a special occasion but you'll never feel out of place.
THE FOOD
Understandably, steaks take center stage here so expect to find generous cuts of veal chop, bone-In rib steak, filets and strips. I was pleasantly surprised by the rub and butter brush used on the meat, which I typically find to be too salty and too rich at other steakhouses. Not so here. I couldn't pry the exact recipe from our server, but the rub definitely had a subtle touch of garlic, which I enjoyed. You'll also have your choice of sauce (Béarnaise, Au Poivre, Bordelaise) as well as accompaniments, such as the Black Truffle Demi-Glace, if that's your thing.
THE STANDOUTS
We started with the Shrimp Cocktail, which wasn't bad but wasn't noteworthy either. The Romaine Wedge, on the other hand, was a kaleidoscope of flavor owing to the walnut, dried cherries, bacon and Asiago combination. For dessert, let your server mercifully divert you from indecision by delivering a combo platter of several mini desserts, including the unforgettable Grand Marnier Souffle and the Banana Chocolate Terrine.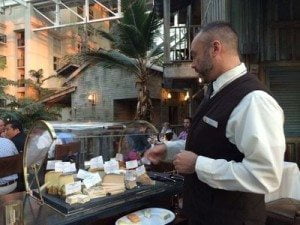 THE DRINKS
The wine is flowing, so those with a preference for vino will find ample offerings, including lots by the glass. The wine list weights about four pounds and includes $30 bottles as well as $2,000 bottles, and everything in between. If you arrive ahead of your reservation, consider grabbing a seat at the bar and ordering whatever handcrafted cocktail the bartender suggests.
THE LITTLE EXTRAS
The cheese course has never even registered on my radar in all my years of dining, so I'm grateful our server encouraged us to at least have peek at Old Hickory's renowned cheese cart. He wheeled it over and ceremoniously opened the glass case to reveal more than a dozen cheeses from all over the world. Guests can choose a selection of three or six artisanal cheeses, which are then plated with dates, spiced nuts, honey and guava jelly. This extra course can be filling but if you're having one of those nights that knows no curfew, simply slow down the rest of the courses and enjoy this unique culinary departure.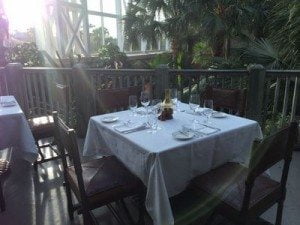 NEED-TO-KNOW DETAILS
Valet parking is covered completely when you dine at Old Hickory but only in part at the resort's other restaurants.Be sure to carve out some time either before or after dinner to walk around the resort, at least to check out the other two sections of the atrium, which pay homage to Key West and St. Augustine.
If you're lucky to be turning this visit into a mini staycation, be sure to check out the resort's current deals first. For example, right now they're offering a "flash sale" with rates from $159-$189 on select nights in April. By the way, Gaylord is now owned by Marriott.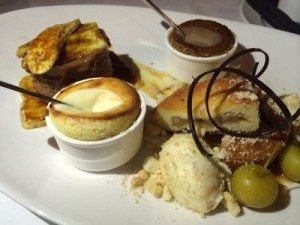 BEST SEAT IN THE HOUSE
The exterior decks of Old Hickory are Eden-like. Even though you're technically still inside the resort's atrium, it feels like outdoor dining minus the heat, bugs and passing traffic. When you make your reservation, see if you can request a table on either the Cypress Grove Deck, Mango Patio or the deck at "Aunt Lily's."
THE PRICE TAG
Just like at any upscale steakhouse, your bill at Old Hickory will likely exceed $150, especially if you're ordering wine or cocktails. You can check out the online menu, which has the prices on it, here.
Old Hickory Steakhouse 
Gaylord Palms Resort and Convention Center
6000 West Osceola Parkway
Kissimmee, FL
(407) 586-1600