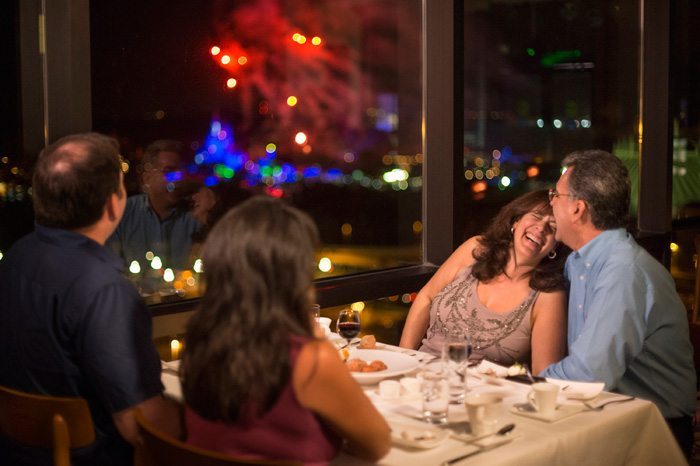 Walt Disney World and date night. Maybe not two things most people would put together. But Brooke Fehr, Disney Food Blog contributor, would advise you to reconsider. She's studied the sprawling 40-square-mile resort extensively over the past few years and has picked up some stellar date night ideas, tips and recommendations along the way. Lucky for us, she was more than happy to dish…
What is it: a 50,000-square-foot retro-style bowling alley, restaurant and lounge located at Disney Springs.
What she says: Not only do they have a really interesting menu (from pizza to sushi plus a full bar) but they have bowling, pool and dancing with a DJ. It's one of the few Disney experiences where you aren't going to see many kids. It's got a fun retro vibe and is a place where you can really make a night of it.
What is it: A quick service restaurant inside the Polynesian Resort.
What she says: The neat thing about this place is that it's more of a budget option but they have fun food with a Polynesia twist, including things like pulled pork sandwiches. AND you can take your food and go down to the beach at the resort for a picnic. It's also the only place outside of Magic Kingdom where you can get a Dole Whip. Later, head over to the Tambu Lounge for Lapu Lapu, a rum-based cocktail served inside a hollowed out pineapple. Then catch the Wishes fireworks display, which can be viewed from the Polynesian's beach.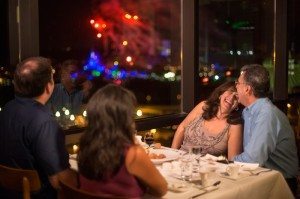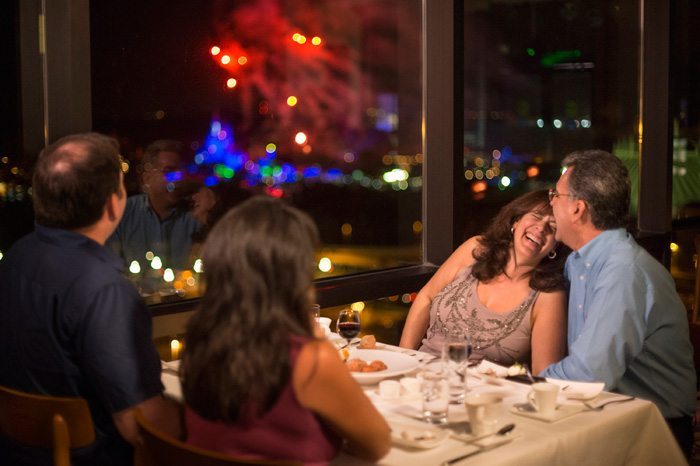 What is it: A highly praised, five-star restaurant inside Disney's Contemporary Resort.
What she says: First of all they have gorgeous views and you can watch the sunset and the fireworks from the observation desk or from inside the restaurant. They also pipe the soundtrack in for Wishes and they lower the lights. They have great cocktails, a menu with an emphasis on seasonal food, and amazing service. It's one of the signature dining spots, and it's very popular so you'll need to book in advance.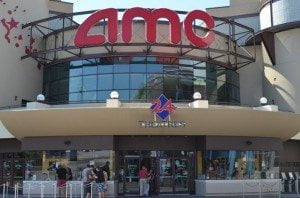 What is it: A 24-screen theater with a full food and bar menu that can be delivered to your seat.
What she says: Who doesn't love dinner and a movie? This theater has one of my favorite movie experiences. It's comfortable and clean. The food is great. There are flat breads, sandwiches, a full bar, pizza, tenders, and comfort food desserts like brownies.
Beaches & Cream at Disney's Club Beach Resort
What is it: A nostalgic soda fountain joint with burgers, milkshakes and loads of ice cream treats.
What she says: This is where you go to get really great ice cream sundaes and desserts. It's very casual, although they take advanced reservations now. It's in the Epcot resort area, within walking distance of BoardWalk.
Eating and Drinking Around World Showcase
What is it: The collection of countries inside Epcot's international section.
What she says: Nothing is better than strolling around the World Showcase promenade and doing a progressive dinner date night around the world. You can sip margaritas in Mexico or eat crepes in France. There's great food in Italy, a new restaurant in Morocco, plus loads of walk-up carts, bakeries, and quick serve spots. And, of course, stay for the fireworks.
What is it: A swanky steakhouse inside the Waldorf Astoria
What she says: So, technically this is not a Disney restaurant but it's on the resort property. It's very luxurious but very comfortable. The servers are amazing, the food is too. I think of it as more than a meal; it felt like a vacation.
Tony's Town Square in Magic Kingdom
What is it: A kitschy Italian eatery that pays homage to Lady and the Tramp.
What she says: Everyone loves Italian, but this is no ordinary Italian restaurant! It's where Lady and the Tramp had their first kiss. Located on Main Street USA in Magic Kingdom, this restaurant is themed around the movie and is the perfect place for die-hard Disney fans. Oh, and the crème brulee is a standout.
What is it: An uber luxurious restaurant inside Disney's Grand Floridian Resort.
What she says: We can't have a list of romantic Disney experiences without talking about this place. It's elegance personified. One of the best restaurants in all of Orlando and also the only place on Disney property that doesn't permit little kids. Guests under ten don't exist here so you are assured a grown-up experience. You're not going to leave disappointed. The Chef's Table is the most romantic option but you'll have a really memorable foodie experience no matter what you choose.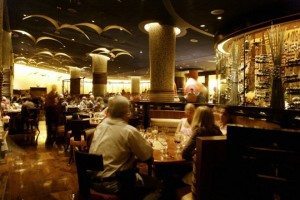 What is it: African cuisine with views of wandering wildlife at the Animal Kingdom Lodge.
What she says: This place gets top marks for ambiance. It has gorgeous lighting mimics the African sunset. You also won't find too many kids here. There is a really great menu showcasing flavors from Africa. It has the largest wine list featuring African wines outside of Africa. Last time I dined there they did a flat bread that was out of this world. The menu is seasonal and always changed up so you never know what you'll find there.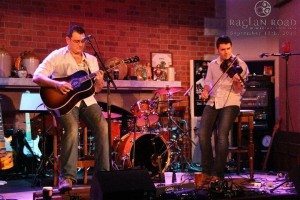 Wait… I have one more to add: Raglan Road
There's always a party happening at this authentic Irish pub in Disney Springs. And while it might not be known for its intimate corners or subdued atmosphere (quite the opposite, actually) you just can't beat the hearty fare, fabulous live entertainment and jubilant vibe. Oh, and the Bailey's Shake isn't too shabby either.
Image credits: Walt Disney World and Kristen Manieri