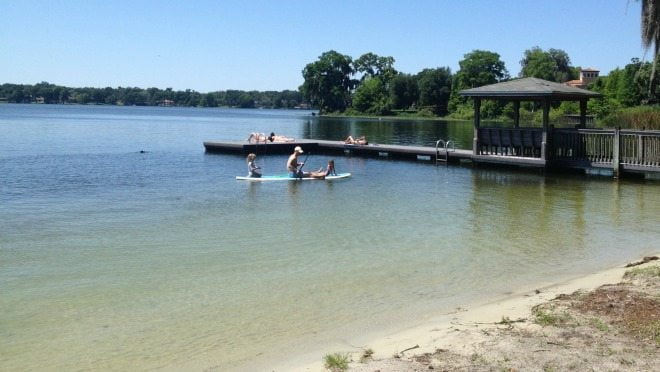 We're blessed with a close proximity to great beaches. For most Orlando residents, the drive to New Smyrna, Cocoa, or even the Gulf of Mexico can take less than an hour. But there are days that even that short haul feels like too much. Thank goodness for the Winter Park beach. The WHAT?! you say?
Yes! Few realize that there is a sweet little piece of heaven perched on the shores of Lake Virginia. Officially named Dinky Dock Park, this 1.56-acre City of Winter Park property boasts a sandy beach, fishing pier and boat ramp.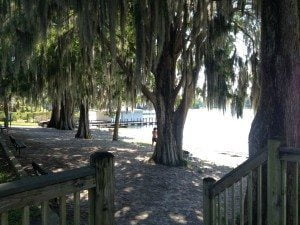 Not only is it delightfully shaded by towering Live Oaks, the beach is a best-kept-secret, which means even on weekends you'll find only a few families and a handful of Rollins students who wander over from the campus next door to sun themselves on the dock.  You'll see paddleboaters, kayaker, jet skiier, water skiiers, and the occasional Winter Park Scenic Boat Tour float by.
Dogs are not allowed on the beach, but you're welcome to bring chairs, blankets and a picnic basket filled with your favorite snacks and (non-acoholic) beverages. There are restrooms onsite, which are clean and open each day at 8am and close at dusk.
This is a great date day activity all on its own or the perfect add-on to Sunday brunch on Park Avenue, which is just a short stroll away.
Address: Ollie Ave, Winter Park, FL 32789