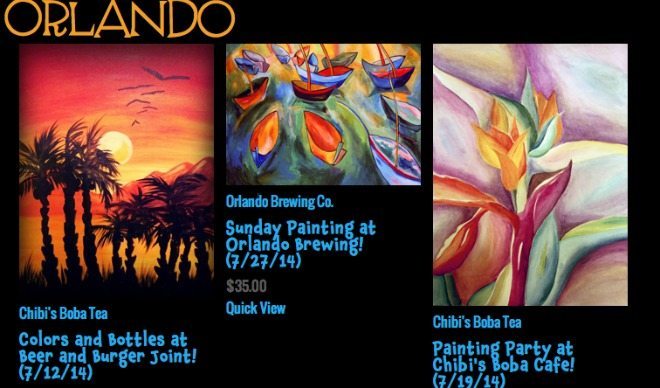 The concept for Colors & Bottles is simple: they gather together a group of amateur painters in a fun setting and walk each budding artist through a step-by-step process for creating a masterpiece on canvas. Three hours later… voila… you've got something worth hanging on your wall.
Organizers provide all the paint and supplies… you simply bring a sense of creativity that's bolstered by the wine, beer and cocktails on the menu.
Oh… didn't I mention Colors & Bottles hosts all their classes at bars and such?
For example, check out their upcoming classes:
These stress-free classes, which are taught by local artists, are designed to be great for any skills level and are an ideal activity for a fun date night. The price tag (not including drinks) is typically around $35/person.
50% OFF PROMO CODE: Readers of the Orlando Date Night Guide can insert promo code 'ORLANDODATES' at checkout and they'll receive 50 percent off a class through August 1.