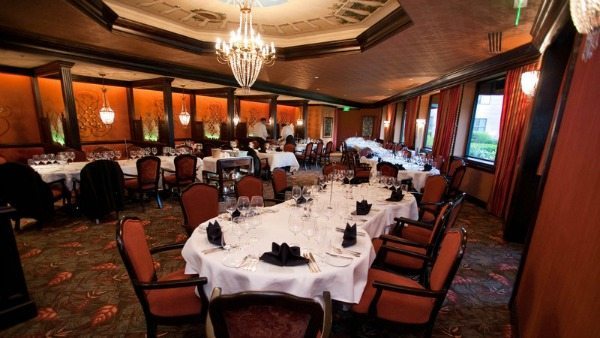 There are times when dinner is designed to impress. Maybe you're about to pop the big question or you're celebrating a big anniversary, but regardless of the occasion, you need a culinary experience that's going to offer some major wow-factor. Here are a few suggestions for those big nights:
The Venetian Room
Expect to be doted on like you're an A-list celebrity when you dine at the award-winning Venetian Room (shown above and right). Inside this lavish space dripping with ornate fixtures, dark wood accents and dimmed lighting from the dazzling chandelier at its center, a mostly coupled crowd enjoys a highbrow menu of steakhouse-esque fare punctuated by several stellar seafood offerings. While the entire restaurant exudes a hushed vibe, you'll really feel like you've escaped to a private space if you reserve one of the Venetian Room's ultra intimate booths. Tucked into your private alcove, you can indulge in glasses of champagne, the famed Grand Marnier Souffle, and entrees that are wheeled to your table on a cart and then regally presented on silver platters. The Venetian Room is located inside the Caribe Royale Hotel at 8101 World Center Dr, Orlando.
Norman's
Tableside preparations and a private, wine encased dining room are just a few of the standout features of Chef Norman Van Aken's award-winning restaurant inside the Ritz-Carlton Orlando, Grande Lakes. Besides its location, Norman's appeal stems from the distinctness of its cuisine, which represents a fusion of flavors that marry Caribbean, Latin, and Asian cuisine. The menu offers lots of fresh fish main entrees as well as a handful of immensely flavorful carnivorous choices, but be sure to save room for the Havana Banana Split, a rum-flamed banana paired with house-made macadamia nut brittle and vanilla bean ice cream. Beyond the a la carte menu, Norman's also features a tasting menu. Priced at $95 per person, this option allows guests to sample and savor six different courses. Wine pairings can be added for an additional $46.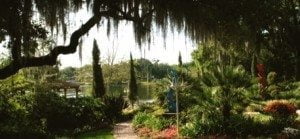 Enzo's on the Lake
I've met couples who return to Enzo's every single year for their anniversary, and with good reason. The classic Italian food, incomparable service and lakeside ambiance make a trip to this enchanting Italian villa in Longwood (yes, Longwood) a must. Perched on the shores of Lake Fairy, Enzo's was once a huge, private residence but now a series of small and intimate dining rooms sprinkled throughout the villa make this a coveted place for intimate occasions. If you have some time before you are seated, grab a glass of wine and enjoy it in the sculpture garden overlooking the lake. If you've timed it right, you might even be able to watch the sun go down. inside, the food is simple, traditional and flavorful with everything made in-house with a dedication to traditional Italian dishes. Start your meal with the famous antipasti platter, which features a variety of house charcuteries, and then choose from pastas, seafood, meats, and poultry. Valet parking is mandatory on busy nights and reservations are strongly recommended.
Don't just take my word for it…
I asked a few local foodies to weigh in on their favorite special occasion spots. Here are their picks:
Rona Gindin, dining editor for Orlando Life Magazine: "Luma on Park or Primo."
Joseph Hayes, dining editor for Orlando Magazine: "Victoria and Albert's for 'special special' and Primo as a second choice."
Katie Farmand, editor of Edible Orlando magazine: "Luma on Park, The Ravenous Pig and—for a real splurge—the Chef's Table at Victoria and Albert's."
Brooke Fehr, contributor to the Disney Food Blog: "I'm going to go with California Grill at sunset."