Waldorf Astoria Orlando is celebrating summer with its Enchanted Evenings series, which presents an ongoing line-up of activities and events running weekends now through September 1, 2014.
The summer-long schedule includes scores of dawn to dusk happenings available to all guests staying at Waldorf Astoria Orlando, located near Walt Disney World Resort. Rates start at $249/night.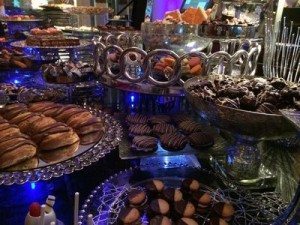 Besides daily poolside activities and live entertainment, the series will showcase a slew of special culinary experiences including:
Champagne Check-In (Fridays, 4-6pm)
Weird Science Ice Cream Social (Fridays, 4-6pm)
Summer Solstice Nights featuring culinary creations and poolside entertainment every Saturday from 6-8pm
Enchanted Evenings horse and carriage rides – $85 per carriage for 30 minutes, includes champagne and strawberries. (Saturdays, 7-11pm)
Interactive mixology at Peacock Alley (Saturdays, 4:30-5:30pm)
Spa "Happy Hour" (Fridays and Saturdays, 6-8 p.m.)
Bar du Chocolat (Fridays and Saturdays, 6:30-10:30pm)
Live music  in Peacock Alley (Fridays, Saturdays and Sundays, 8-10pm)
Poolside Yoga (Sundays, 8-9 am)
Royal Tea (Sundays, 3-5pm)
Twilight Golf at Waldorf Astoria Golf Club (Daily, after 2pm)
Guests staying over Labor day weekend will be treated to a private fireworks display on Saturday, July 5 at 9:30pm
Couples traveling with kids can take advantage of the Kids Club Astoria After Dark: Kids Night Out (Fridays and Saturdays, 6-10pm), which gives parents the chance to slip away for a few hours while their happy brood enjoys some kid-friendly fun, including scavenger hunts, crafts, bingo, a make-your-own pizza dinner, and S'mores.
*** A $50 discount will be applied to the Kids Club program fee for guests of Waldorf Astoria Spa or Bull & Bear.***
For more information,  visit www.waldorfastoriaorlando.com/enchanted-evenings.