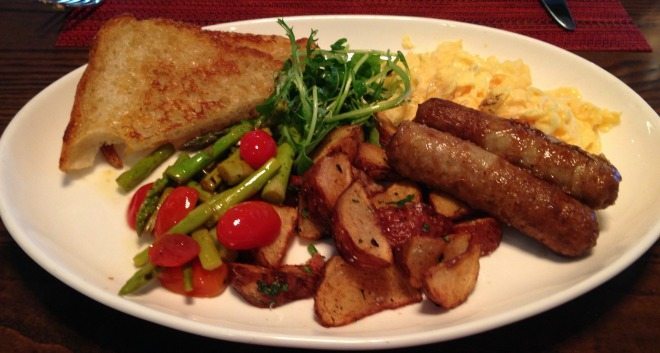 I know they say that breakfast is the most important meal of the day, but I've never much cared for breakfast. I usually go for something I can grab and eat on the car ride in to work, something functional and easy like a smoothie or an English muffin. And while that still holds mostly true during the week, that's definitely changed on Sundays. My fiancé looks forward to a good a breakfast like I look forward to a glass of wine after work, and Sunday has become the day when we make a big deal out of breakfast, converting it to that high holy event called brunch. There a few restaurants that are part of our heavy rotation, and last Sunday, we added one more to that list: Hamilton's Kitchen at The Alfond Inn.
I work at Rollins, and I've been to the Inn a few times: for lunch, coffee, drinks with coworkers, even dinner with my fiancé. But that was the first time either of us had tried their brunch, and we liked it so much that I ended up buying a gift certificate for my brother and sister-in-law to check it out, too. They have a 1-year-old and a 4-year-old, and the restaurant has a peacefulness punctuated by the live piano music playing in the background that I thought they would appreciate (we sure did).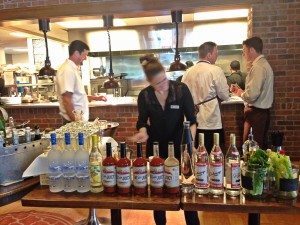 Neither of us typically drinks during brunch, but they had a build your own Bloody Mary menu that we couldn't pass up (and you shouldn't either—it's SO good). You can choose your own vodka (starting at $8 for Stoli, $10 for Grey Goose), the ingredients you want in it, the garnish, and the rim. And for $2 extra, you can opt to kick it up a notch by adding cocktail shrimp, cocktail crab claw, in-house smoked thick-cut bacon, a mini beer chaser, chorizo, a stuffed olive skewer, or a gourmet cheese skewer. I tried one with fresh lime and lemon juices and Worcestershire; garnished with a fresh celery stalk, green olives, and pepperoncini; with a Cajun blend rim and the in-house smoked thick-cut bacon. I haven't stopped thinking about it since, and will definitely be having another one in the near future.
If you prefer the traditional mimosa route, The Alfond Inn has you covered. Mimosas start at $8, use Lamarca Prosecco, and you can choose from orange, cranberry, grapefruit, guava, pineapple, and pomegranate juices. For $2 extra per glass, you can top off your mimosa with Solerno (a blood orange liqueur), St-Germain (flavored with elderflowers), or Chambord. We both tried the orange juice mimosa—I mean, they have a dedicated bartender standing at the front of the restaurant just waiting to make these drinks. How do you pass it up?—and it was crisp and refreshing without being overly sweet. It's definitely a good way to start any Sunday.
Hamilton's Kitchen has a selection of breakfast and lunch items (plates range from $10 – $16), but we both opted for breakfast. We shared a small plate of their shrimp and grits, which were creamy and delicious without being mushy. Our waiter recommended them—he's ordered them at restaurants across the South and said these rivaled the best he's ever had—and they didn't disappoint.
I also ordered the corned beef hash burrito ($11), which is a tortilla filled with eggs, white cheddar, corned beef hash, and datil pepper sauce and served with skillet fried potatoes. I've only had corned beef hash once before, and I was excited to see it on the menu. The datil pepper sauce gave the dish a very distinct flavor and added some nice heat. The potatoes were cooked perfectly, soft but not mushy, and had a good crispiness to them.
My fiancé ordered the farmer's breakfast ($13), which traditionally comes with sunny side up eggs, but he switched them out for scrambled, his favorite. They had a nice buttery after taste. The dish also comes with two Lake Meadows sausages, skillet friend potatoes, grilled tomatoes and asparagus, and toast. He let me try a bite of the sausages, which he described as sumptuous, and I would agree. The veggies were also a nice touch—crisp and not overcooked and full of flavor. Plus, they gave the plate a great splash of color. They also had homemade jam, in strawberry and wild berry, that were too die for. Toast always strikes me as unnecessary filler, but I actually regretted not having a vessel to eat more of the jam.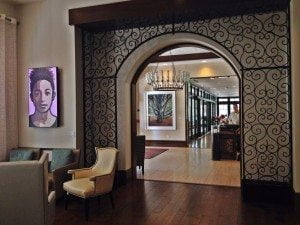 We were definitely full after the meal, but very happy. One of my favorite things about Hamilton's Kitchen is that it's in the Inn, which has an impressive collection of contemporary art. Because it was hot and muggy outside, we opted to stroll through the hotel and explore the artwork. As we were doing that, we ran into Chef Marc Kusche and got to chat with him for a bit about his plans to continue expanding the menus, which have certainly more than doubled since the Inn opened a little less than a year ago. We're both pretty excited to see what he adds to the menu and what he comes up with in the kitchen.
If you'd rather have some time to sit around and relax, there are plenty of places outside and inside, or if you're staying at the hotel, there's a beautiful roof-top pool. It could make for a lovely weekend getaway.