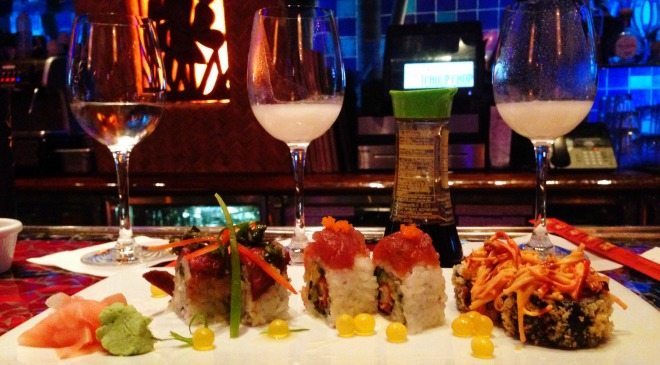 Emeril's Tchoup Chop (pronounced "chop chop") opened in 2003 at Universal's Royal Pacific Resort. Though I've lived in the area—and visited City Walk and even Emeril's Orlando—many a times since then, I never ventured to Tchoup Chop. It's located in the hotel, so parking would be more expensive, I told myself. It's too far of a hike from College Park, I thought. It wouldn't be as nice as Emeril's other restaurant.
On Thursday night, I learned just how wrong I have been.
The parking is free—and valet service at that; it's right off of I-4 and only took 20 minutes, even with the rush-hour traffic; and the food is equally delicious. An added bonus is that the ambiance is actually more conducive to a great date night. The lighting is dimmed but punctuated by vibrant colors of light. There's a tranquil lily pond that runs down the center of the restaurant. And there are some great, secluded booths along the back wall.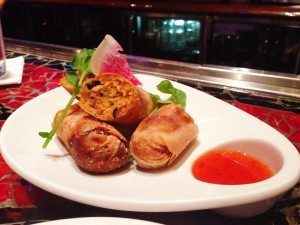 My fiancé and I went with the hopes of sitting outside near the Tiki bar, but the Florida weather had other plans for us. Luckily, the happy hour (5 – 8 p.m. every day) traveled inside with us to the bar, where they offer small plates for $5, including crispy Kalua chicken egg rolls, which are light and not greasy; Kiawa smoke baby back ribs, which are tender and succulent; steam pork and Asian vegetable dumplings; and the Tchoup Chop crunchy shrimp, which are wrapped in a kataffi-style phyllo dough. (In full disclosure, I'm not that big of a shrimp eater and I took a bite just try it, and found myself finishing the whole thing. It was that good.)
Tchoup Chop's happy hour offers $4.50 domestic beers, $5 well cocktails, $5.50 imported beers, $6 select craft beers, $6 wines and house-made sangria, and $4–$5 appetizer specials.
The drinks are strong and not overly sweet, which is just how we like them. Intrigued by the Luxardo maraschino liqueur and its nickname as the Hemingway Daiquiri, I tried the La Floridita, which I will definitely be having again. My fiancé, Jesse, tried the 1944 Mai Tai Roa Ae, which uses two types of rums. This is not your typical tropical umbrella, frou frou Mai Tai, and it's certainly not for those who don't like rum. Impressed by the emphasis on good rums and less so on the fruity flavors, Jesse quickly announced that he wouldn't be able to drink Mai Tais anywhere else from now on.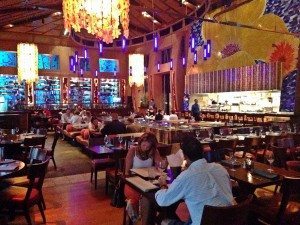 Sitting at the bar has its advantages. The bartender, Denise O'Leary, twisted our arm into trying some of the sake, her new obsession, and encouraged us to try some of the sushi and some of the robata dishes. For those who don't know, robata is a style of cooking food at 1,000 degrees, and Tchoup Chop is one of only two restaurants in the Central Florida area that does it. I recommend the cauliflower served with a curry aioli (trust me, you'll thank me later) and the Thai spiced lamb satay, which Jesse described as a "life-changing bite of food."
If you're in to wine, the restaurant's manager, Andy Vaughn, served as the sommelier at Emeril's Orlando before moving to Tchoup Chop last year, and I'd let him recommend a bottle that pairs well with your food.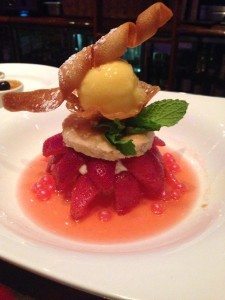 And because I think it's always good to know the chef's favorite dishes on the menu, I asked. Chef Ryan Vargas grew up in O'ahu, Hawaii, where his father was the Master Chief Chef for the U.S. Navy, and he likes the ahi taratare "poke" flatbread because the flavor reminds him of home and the hibachi skirt steak, which takes him back to long days at the beach when he and his friends would throw a steak over the fire and eat near the water.
If you still have space afterward for a dessert, try the strawberry shortcake. It took me by surprise. It's served with lilikoi sorbet and vanilla bean diplomat custard, but it's the strawberry-infused bubble boba that really gives the dish its Polynesian flair. It tasted how I imagine the waters of Hawaii to feel—crisp, clean, and oh-so refreshing.