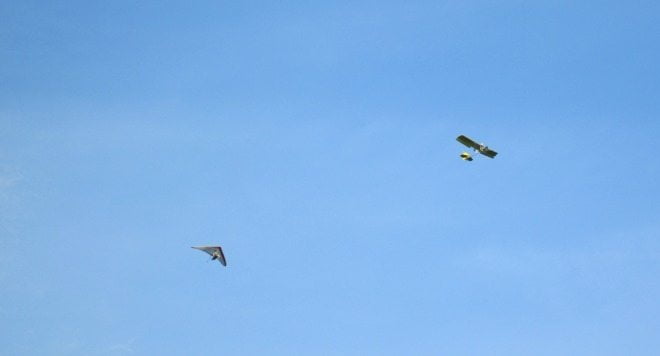 Ever dreamt of flying like a bird? I have. And one cool Central Florida morning me and my date got to do exactly that: hang gliding at the world famous Wallaby Ranch, located right here in our own back yard.
Hang gliding originated in Australia, and owner Malcolm Jones wanted to honor its roots when he opened the ranch back in 1991 when he named it the Wallaby Ranch (a wallaby is a smaller, cuddlier version of a kangaroo). Since then he and his team of instructors have taught thousands how to fly.
It's surprisingly simple, but euphorically fun, this whole taking flight thing.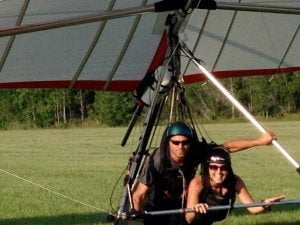 Don't worry, you're in good hands. All discovery flights are tandem, so you'll fly with an experienced glider (ask for Aric, he's been hang gliding for 17 years and his passion and knowledge is evident), who does everything from helping you into your harness, to showing you how to steer, all the way to managing your smooth, rolling landing.
It's an amazing experience that starts with a tow behind a specially designed ultralight towplane that escorts you up to 2,000 feet, at which point your instructor, who is right by your side the entire time, releases the towline and, suddenly, you're soaring. With the sounds of the plane's engine gone (which was never really very loud to begin with), there's now nothing left but the sounds of life…and your squeals of joy.
Flying begins everyday at 8:00 a.m., and it's about a 15-minute ride from take-off to landing, but that 15 minutes is enough to leave you, and your date, buzzing for the rest of the day. What a blast!
But the experience doesn't end there. Each morning flight is followed by a delicious brunch. I'm not talking about fruit cups and stale bagels here, but rather the kind of gourmet buffet that has you going back for seconds, and even thirds. This is because the food is part of the experience, and the ranch is clearly proud of their chefs, some of which hail from such previous employment as creatively concocting meals for Paul Newman and Martha Stewart.
You and your date will enjoy it all so much, you won't want to leave. And you won't have to. Stay and go for a swim, then bike or hike the trails on this 500-acre ranch. You can even pitch a tent or park your RV and stay the night. You never know, you just might want to do it all over again the next morning.
The Wallaby Ranch is located at 1805 Deen Still Road in Davenport, Florida. They're offering a sweet deal when you call 1-800-WALLABY to pre-book your flight. Ask for the "Sweetheart Tow" and mention the Orlando Date Night Guide and you and your date fly for only $150 each (normally $175 per person)!