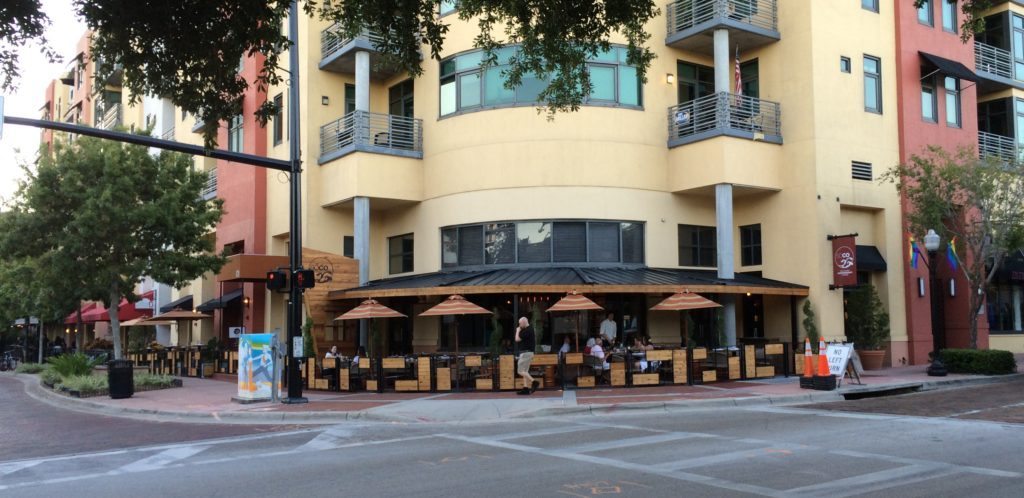 It's hard to believe it's been over a year since Hue closed its door, ending a 12-year stretch at the corner of Central and Summerlin. It was tough to say goodbye to the hipster hotspot with its infamous Disco Bruch, but even tougher to see the coveted piece of real estate sit empty for so long. But after months of pining for a new concept to be unveiled, finally Soco arrived a few weeks ago… and it was totally worth the wait.
For starters, it is so great to see that corner buzzing again. The vacant patio felt like a missing limb in the Thornton Park District, a critical connector between the district's Central Blvd and Washington Street segments. Soco opens daily at 5pm, and within an hour the breezy space is bustling with cheerful diners enjoying a lovely slice of downtown.
Inside, Greg Richie, executive chef and partner with Thornton Park Restaurant Group (also responsible for CityFish down the block), oversees his kitchen with a humble confidence that can only come from someone with such an impressive lineage. Richie has worked alongside celebrity chefs Emeril Lagasse and Roy Yamaguchi (Roy's) and while Soco's cuisine is definitely indicative of his Southern roots, tiny slivers of earlier Cajun and Hawaiian influences can't help but sneak in.
The metamorphous from Hue to Soco is immediately apparent. Guests are now greeted with an air of down-home hospitality, a far cry from the haughty vibe Hue was once known for. And the bar, which used to take center stage in the main dining room, is now off to the left, sending a message that's crystal clear: the food is now the main attraction, not a slew of boozy cocktails.
I've visited Soco three times now and have consistently walked away impressed, but more importantly, satiated and happy. Want to know why I love it so much? Read on…